The kit haves 10 items: 1 whole new item with new gameplay, 1 different model of a barbecue grill and 8 full decorative. No build or CAS.
New objects:
-
Pizza oven:
a oven maded with bricks and/or clay, with a small vent with uniques recipes. Based in TS3 Store item: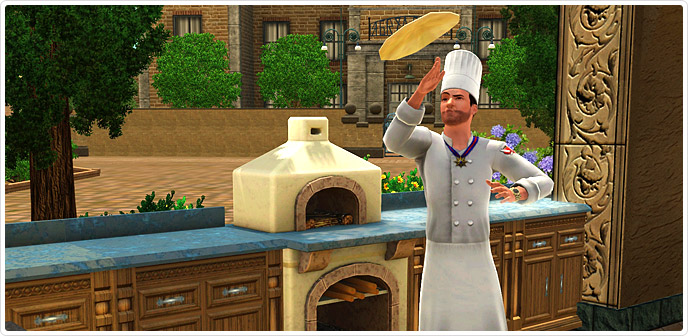 The same recipes from TS3 Store like pizza, bread and calzone, but adding new ones like baby ribs, roasted chicken or duck and lamb leg.
-
Brick barbecue grill:
basically a built-in grill in a brick structure to match with the pizza oven design. Maybe something like this that matches with all pizza oven swatches
-
Hood:
A decorative hood that can match with both the pizza oven and the barbecue grill swatches. This comes from Sandy's Around The Sims page, that haves many items for TS2, TS3 and TS4:
-
Potted herbs:
decorative object maded from 3 small tabletop planters that contains 3 herbs from the Provence: oregano, rosemary and thyme. Based in SimLaughLove & Nolan-Sims from the Cottage Garden PTS pack.
-
Garlic:
a group of garlic tied to the wall, inspired by Sandy's ATS2 Pizzeria Set:
-
Homemade sausages and ham:
another decorative item, inspired by Sandy's ATS2 Country Kitchen set:
-
Olive oil bottles:
a pair of two bottles of olive oil, inspired by Sandy's ATS2 kitchen decoration
-
Vinegar bottle:
a clay bottle of vinager, inspired by Sandy's ATS2 kitchen decoration
-
Spicy oil
: a glass bottle with Olio Santo (italian chilli oil), inspired by Sandy's ATS2 pizzeria set:
-
Chianti bottle
: a bottle of chiantini wine (italian wine), inspired by Sandy's ATS2 pizzeria set: