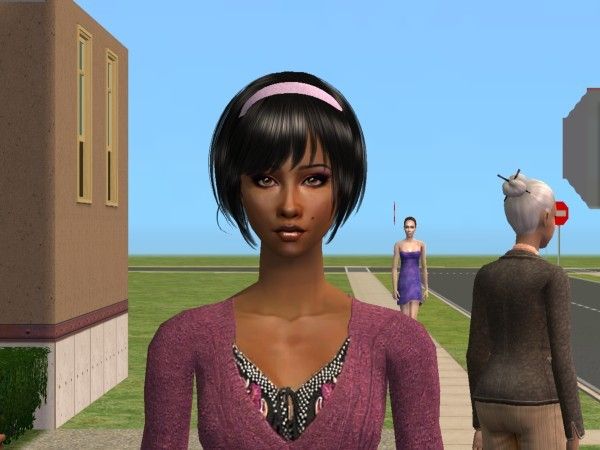 My name is Kyari Michaels. I grew up in Belladonna Cove, a city rife with crime and street violence. As a child, I witnessed my mother's death at the hands of the criminals who litter my city. Since then, I have grown up in group homes with only one goal - survive to adulthood. Now that I am eighteen, I have vowed to dedicate my life to cleaning up Belladonna Cove and taking down those who are poisoning my city in order to honour my mother's memory. To do this, I cannot become like them; I cannot stoop to the level of a common street thug to achieve my aims. I must become more than that. I must become better.
____________________
Hello! Here's the (very short) prologue to my Sims 2 Legacy Challenge! Kyari's back story is based off the TV series Arrow and this prologue is a rewritten version of Oliver Queen's opening monologue for season one of Arrow. I like to describe Kyari's story as the plot of Arrow if Laurel Lance was the main character.
I'm playing for points for the first time and following all the rules to the letter with a couple exceptions:
I'm playing with the college adjuster mod. I'm not using it to change grades, only to skip to the final exam of a semester once my Sim reaches an A through good ol' fashioned hard work. I find University takes way too long if I don't use that.
I have Inteen in my game but I won't be using most of the features. My handicaps I chose actually forbid most features from being used.
Some custom content items I have are very cheap but look nice. It's somewhat cheating but I hate to limit the CC I can use. It stifles creativity.
Kyari's Info
Aspiration:
Family
Age:
Young Adult
Star Sign:
Virgo
Fitness:
Average
Personality:
Neat (8)
Shy (2)
Active (6)
Serious (3)
Grouchy/Nice (5)
Turn Ons:
Red Hair, Glasses
Turn Off:
Full Face Paint
Interests:
Politics - 3
Money - 1
Environment - 2
Crime - 3
Entertainment - 0
Culture - 3
Food - 6
Health - 4
Fashion - 7
Sports - 5
Paranormal - 7
Travel - 5
Work - 4
Weather - 7
Animals - 4
School - 4
Toys - 4
Sci-Fi - 4
Handicaps
Pinstar added numerous handicaps to the legacy challenge to make the challenge harder and to also give the opportunity for more points. You need at least 10 points worth of handicaps to have a chance at earning a perfect score but handicaps are optional. I went with the full 10 points worth of handicaps. The handicaps I chose reflect Kyari's general personality, beliefs, values and story in some way.
Well Dressed Sims
Noble Composure
Matriarchy
One Way Street
Strict Family Values
Free Roaming Ghosts
Storyteller
International Turmoil
Danger Zone