I feel bad the old sets are being vaulted - I'm sure there's new players who never got a chance to grab them. I'm betting SN brought in a bunch of new players on its own.
Maybe they just ran out of ideas with all the past Halloween sets they put out. I'm thinking they're going to add a costume category to CAS so sims aren't walking around dressed like hot dogs all the time, so maybe that's why we're not getting any costumes before SEA?
What would you guys like to see as a special Halloween release? (and I'd LOVE it to be free, but I'm not holding my breath on that!)
I'd like:
1) Coffin beds (as a pc item) for adults, couples, and toddlers (I'm talking functional,sleep inside and peek at sleeping vamps by opening the lid)
2) Boarded up or broken windows
3) cobwebs as placeable decor objects that fit in corners (with move up/down functionality)
4) A spiderweb wall light with a dangling spider on it.
5) Some actual walls and floors that are worn/broken/cobweb-covered, etc. Some new patterns; rust, worn fabrics and woods, and holiday prints
6) A table-top blood fountain (functional would be great, but decor would be cool too)
If you have ideas, please add them there! I'd love to see them!
These are some of the things we already have: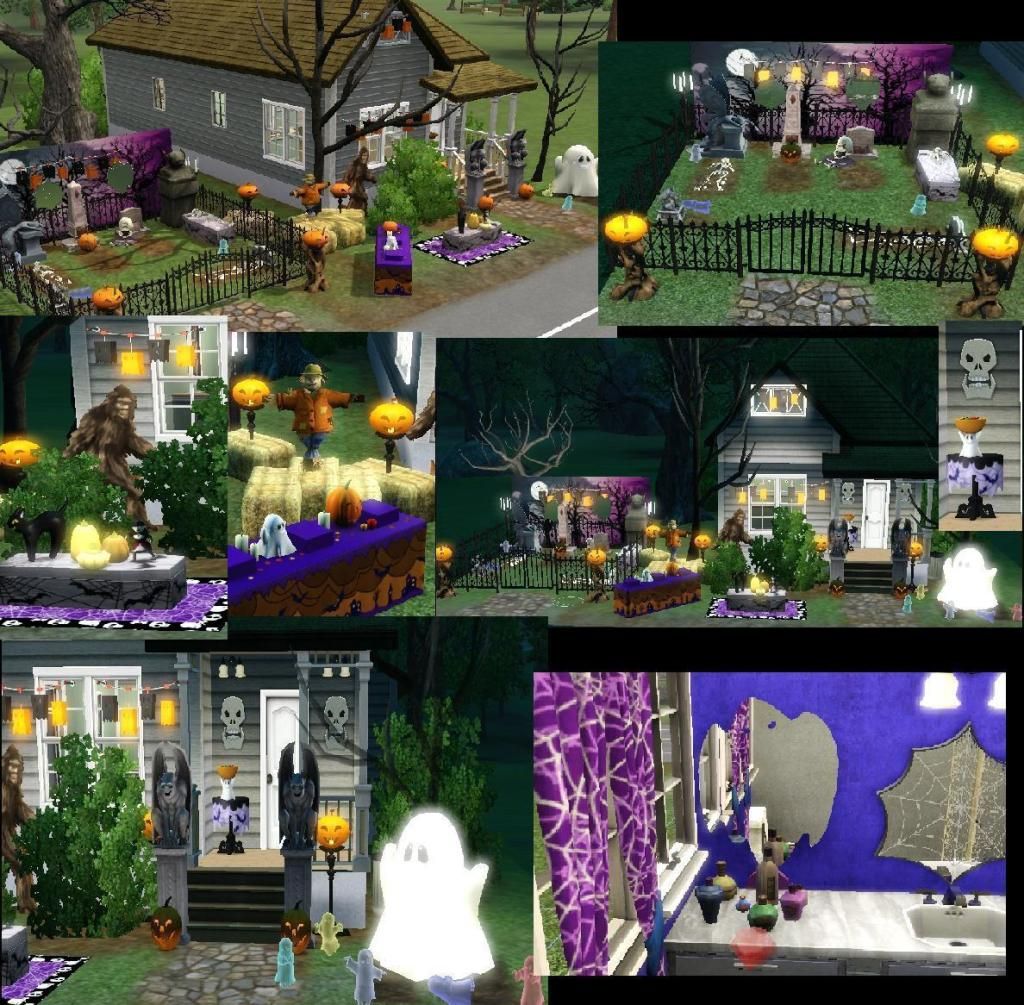 Items added from the thread below (and do scroll down for the pics - they are outstanding!)
7) Pope organ (pc, I hope!)
8.) Graveyard decor
9) Hanging bats, spiders, and skelletons
10) more costumes/hair (maybe make the Frankenstein set over for kids?)
11) More spooky or seasonal art
12) Lawn decor *See pics
13) Bone hand glass/lights * see pics
14) Pumpkin-shaped punchbowl
15) Spooky scarecrow (scarier than the one we have & the one in SEA)
16) Spooky tree with Pumpkin lights
17) Spooky tree with light-up face
18.) Decorated front door
19) Cauldron with smoke and fog *bonus points if it doubles as an outdoor cooking pit!