I played through what I thought was a reasonable exploration of the features available in the base game. I made a sim, dated, got them married, had a kid, tested out living off the grid feature, killed a sim, moved in a ghost and adopted extra kids. I took notes on what broke, what worked, what I enjoyed, what I disliked. I made a 40 minute video about it here: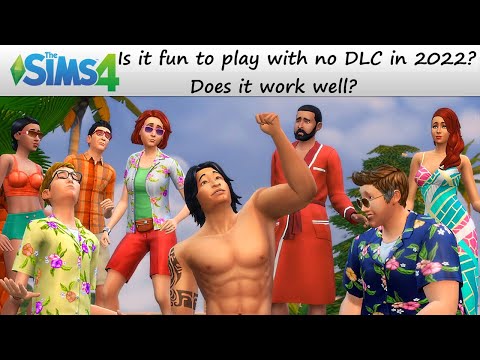 But I will post the conclusion here:
"The game could be summed up as being a mile long and an inch deep, if we changed the allegory to have varying depth detween one water droplet at some points and a good foot at others.
The good includes expansive neighbourhood, building tools, create-a-sim, toddler and child lifestages.
The bad includes barely finished features that are obviously meant to be expanded upon in an expansion pack that make no sense even to have in the base game (such as asking me if I want to store or sell my water and electricity when I can't make either and penalizing me for not living green with the bills when it is impossible for me to do so), loads of bugs, completely abandoned teenage life state that goes on for forever, avenues built for the wrong purpose (such as a karaoke lounge when karaoke is impossible in the base game), ADHD like sim behaviour, fears making it nearly impossible to play the game (feels much better when you switch them off).
I guess I would like more polish and finishing touches without having to buy the DLC to finish them off. Bills would feel better for base game if they were not expanded, teenage life stage should be shorter without the DLC, or there should be more finishing touches for the life stage that hit base game and are not money dependent. I wish the in-depth conversation topics that sims can have actually mattered, so that if someone tells you that they're not looking to expand their family at the same time they would refuse your "try for baby" ask. There's so much goodness here when it comes to toddlers, children, the attention to detail in customization yet so many threads are left hanging lose and I would just like a nice tie off."
There's so much beauty here, but it is like something is still missing. I can't even make up my mind is the base game in better shape now than at release, as on one hand I would be missing likes and dislikes (fun system), better skin tones, toddlers (major improvement here), pools, but on the other hand my bills would be easier to manage, my teenagers wouldn't live for forever as the awkward in-between of "acts and dresses as an adult, but can not perform all adult functions", there would be no monsters under the bed to keep my little ones awake and my sims wouldn't be getting depressed over their unfulfilled life dreams and being stuck in a dead end job every second day (relateable, but those fears are a chore). Ideally what would be absolutely perfect before this game winds down is the teenager life stage rework - shorter frames, loss of adult interactions (complain about bills? Why? What bills are you paying, kid?), gain of something to make the lifestate unique as this and elder are the last more awkward life states remaining in the base game. I would also suggest a couple of optional lots at least uploaded to the Gallery by Maxis team to officially replace venues that don't have support in the base game (Karaoke icon venue when the microphone in it is only for comedy as neither bands nor karaoke exists in base game, making it a very pointless venue).