We Know The Sims 2 Has a EA Games Logo That In Later Revisions Doesnt. In earlier Revisions Had EA Games Logo in the Start and It was Replaced by The EA With a Plumbob. But If Everyone is Still Having it. Let me See and Resolve That Issue.
1. Put A CD That has The Sims 2 (Later Revisions is Better Because It Updated EA Games to EA With a Plumbob Logo) Or a The Sims 2 Pack. (Note that The Ultimate Collection Have all Packs which Means that The EA With a Plumbob Is Here Instead Of EA Games Logo)
2. Install And Update Them.
3. When It Installs or Updates You Install it
4. When Its Installed Open The Game And the EA With A Plumbob Logo will Appear!
Note this Only works with The CD Version. If Anyone Have a Solution For the Origin Version Let Me Know
For everyone Who was Worried
The Cover Needs to be Something Like This
Not This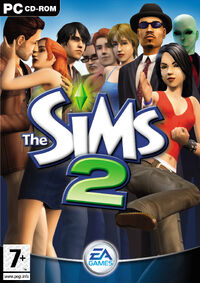 Ok?