The common folk of this beautiful European town know nothing of the intrigue that happens between the gods that have made their town their own.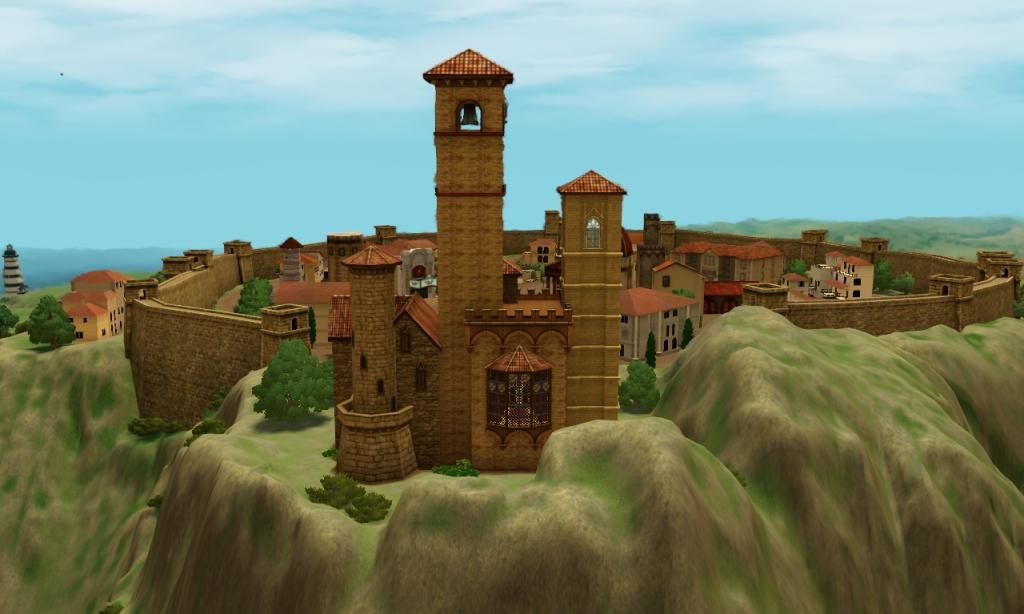 This is a challenge I came up with, and I'm going to write a story based on it.
Here are the rules, and if you want to scroll down you'll see the story.
The objective of this challenge is make a society of deities kind of like Mount Olympus from Greek Mythology.
Start out with 4 sims: a witch, a fairy, a vamp, and werewolf. Two should be male, and two should be female. You can choose to make them married or leave them single. I married my fairy and my witch, but let my vamp and wolf be roomies.
Each type of Deity represents different things:
Witches - Abstractions such as time, philosophy, and science.
Fairies - Nature
Werewolves - Passion, Emotions, Instincts
Vampires - Darkness, Chaos, etc.
Rules for deities
1. Deities do what they want. Therefore, you can only make them try for a baby, marry, etc if they draw a wish for it. The one exception is in CAS in which you can choose to marry off the original deities.
2. Deities can have as much money as they want, but they get a house lot according to their deity level. (More on deity levels later)
3. The type of deity their children are depends on what kind of SN life form they are. For example, if your vamp and wolf have a child and the child is wolf then their representation has to be something revolving around instincts, but you can take the vamp's rep into consideration. Like if the vamp is the deity of sin, then the child could be the deity of Jealousy.
4. Age the children up as you wish. I age mine up as they complete their life tasks. For example tots get aged up once they've learned to potty, talk, and walk. This way I can choose their traits without cheating. For example I gave the goddess of Earthly Fruits (all the plants): Eco Friendly, Loves the heat, Green thumb, Irresistible (because flowers are generally beautiful), and heavy sleeper.
6. I have my deities host parties ever so often so that they'll all know each other (for better or worse).
7. Deities can't marry mortals, but they may have children with them. Only SN life type children are deities. If a deity has a mortal child that child must live wit his mortal parent.
8. Made deities such as mortals transformed into vamps and wolves are not considered real deities, but they can marry deities. Their children's level will be determined by multiplying the true deity parent's level by 5.
The Levels
Level One - Only your four original deities are level one. They should get a large lot, you can choose, but if they choose 50x50 lot then no other deity may have the 64x64 lot.
For all others you use a formula. If both parents were deities then this is the average of both parents' levels plus one. For example if one parents a 2 and the others a five then this the formula. ((2+5)/2) +1. For a child of deity and mortal it's the deity parent's level times 5. For example, if the deity parent was a 3 then the child is a 15.
If a higher level deity has a wish for a lower level deity than this wish can come true regardless of what the lower level deity wants. For instance, Chronos wishes for his son Troy that he gets married, so, Chronos has the power to control his son's life.
When I played this in sims2 levels meant more because if a deity angered a higher level deity then they were sent to the underworld. In the underworld each they must realize their greatest fear each day before they can do anything else. Once they did this they could call the deity they angered and try to make friends with them. Once they become friends they were released from the underworld. The problem with sims 3 is that they're no fears.
That's it for now, but I feel like I'm forgetting something.