This video from Carl's Sims 4 guides explains the topic very well.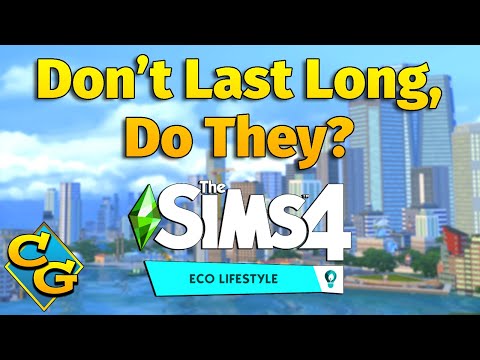 It is very true that there isn't really much to do with your money besides build a mega mansion. I'm planning on working around the real estate thing by having my richest sims own many retail and restaurant lots, but there are only so many that I can build before it gets repetitive for the particular save. I really like the idea of sims essentially buying an entire town by owning "normal" community lots. I did dabble with buying real estate in TS3, but I never managed to buy more than two since it was so expensive. I wanted to buy more, but it was clear that I'd have to work harder and for more generations to accomplish that. What does that create?
Incentive to keep playing
the family.
I posted a previous discussion talking about how TS4 doesn't give you incentive to keep playing with the same family, since there is no real reward. Infants to teenagers (except toddlers) are boring so raising kids isn't nearly as satisfying as it should be, and sims "expire" after YA-hood since older life stages provide no specialness or satisfaction from playing. The only time that matters in a sim's life is YA-hood, essentially making you want to skip through childhood and then stop playing once it goes downhill afterwards.
Story progression is essential in keeping us motivated to continue playing, since it makes the world
less static.
Seeing how premades have kids, their kids have kids, create friends and enemies etc is satisfying and drives you to be curious about what will happen to them as well. After two or three generations in TS4, all the premades are dead and have been replaced by randomized townies with no backstory, only for them to remain static until they die and get replaced by other randomized sims.
How does story progression and raising legacies tie in with long-term goals? It keeps you playing for a longer time, thus prompting you to create new goals each time you would have otherwise put the game down. Currently, the legacy challenge is a popular player-created challenge, but how many times have you actually played multiple generations unprompted, enjoying it without an elaborate plan beforehand to keep your interest?
TS3 often threw small goals at me through
opportunities,
and often those small goals turned into bigger goals.
My favourite example of this is how my TS3 sim was working part-time at a bookstore, wanting to become a journalist but unsure how to start. She was working on her writing skill in her free time, scared that she might struggle if she plunged into journalism without experience. Then she got a request to write a biography. Let me tell you, she was too poor to afford a PC so she pulled many all-nighters in the library to complete that book, going so far as almost having her cat taken away (she loved him very much so this was a tough time of prioritizing). But when she finished that, it felt to me like everything had fallen into place. I had her quit the bookstore and start her journalism career.
Just from this example alone, many of what the video explained can be seen. Struggle to remain financially afloat, difficult prioritizing decisions that ultimately are worth it, the world giving you subtle guidance without shouting every detail of the game at you etc. Now TS4 doesn't even have whims by default.
My sim eventually also struggled to find love, which was both exasperating and
challenging
in a good way. She actually went through a similar dilemma as me at the time with a romantic interest hiding the fact that they were in a relationship, so that made me cry a bit and relate to her even more. Yet another thing that TS4 proclaims to be avoiding, PTSD, is honestly bizarre imo. People having meltdowns if a pixelated burglar breaks into their house is awful and I hope they get better soon, but other people could have the same reaction to their sims getting fat bc of a traumatic bullying experience they had in school. Should sims no longer be able to get fat? The point is that, in order to eliminate the possibility of PTSD, TS4 would have to be dumbed-down to an actual children's game. It was never meant to be a children's game. If the devs want people with PTSD regarding certain occurrences in the game to be able to avoid the occurrences, they should add toggles. (Toggles solve so many problems in TS4. It is beyond me why they don't add more). Players care more about their sims when they are struggling. Even though my sim's romantic misadventure struck a nerve, in many ways it was a positive experience, prompting me to speak about it with my mom (I had kept quiet about it for a few days, pretending I was fine when I was not).
The whole premise of literally any game is
overcoming challenges.
How fun would Mario be if the game held your hand through every level, giving you multiple warnings before a bad guy appears and then telling you "don't worry, we made the bad guy inflict less damage bc we want you to enjoy the experience of winning," then looks over you, applauding obnoxiously, as you cross the finishing line with confusion (the game thought jumping on a pole is too dangerous). Would winning feel earned?
This made me realize why I like vampires so much in TS4: I actually do find it challenging to rank up. My current main sim has an almost maxed-out vampire lore skill, but I'm not sure how to completely max it out. She's exhausted all the tomes of information, sparred, meditated etc but nothing helps significantly. I've been trying quite a few things, since I really want her to have a specific power, but I can't figure out how to get her more points. But I like that. It feels like I'm working towards something.
Aspirations in TS4 are also ridiculously shallow. They are advertised as allowing a single sim to complete many instead of it being one ultimate goal in your sim's life, but honestly that once again makes sims more shallow. You know who is able to complete every aspiration, master every skill etc but ultimately has no true goal in life?
Mary Sue.
TS4 is full of Mary Sues. They're all perfectly blank, allowing you to self-insert all your passing whims onto them. They have no mind of their own. Yet, even people who like self-inserts eventually get bored with them if there is no true end goal. One can only spend so long staring at a perpetually smiling blank-eyed sim before you feel hollow. Bc TS4 is, in many ways, hollow. It perfectly captures how obsessed many people these days are with instant gratification. "I have to work for this thing? Nah, I want it now!" And zap, you have played through an entire GP in one hour. Nothing new to explore, nothing to build onto. So you start a new save and repeat the cycle.
TS3
Lifetime Goals
were amazing. It was not simply a playthrough of a pack, or to master a single skill - it was the combination of different skills, careers, relationships etc to create interesting ways of playing that one might not have thought about before. They utilized the entire game to make a meaningful, challenging goal for sims to work towards. I think of "Golden Tongue, Golden Fingers" as a top-of-my-head example of skills I wouldn't have associated together. Sure, mastering the guitar is cool. But being a smooth, charismatic master of the guitar who befriends the world into attending their concerts? That sets off other ideas: what if they are also an undercover player, luring sims into a friendly drink that turns steamy, only to pretend that nothing happened the day after? In TS4, you have to think out these stories for yourself. Your aspiration is to be a painter. OK. Either all my painter sims are clones or I have to come up with an elaborate storyline. With complex TS3 lifetime goals, each playthrough of exactly the same goal could have vastly different outcomes, even if you essentially made the same choices. TS4 is static, so every playthrough is basically the same, and to make it even worse TS4 has step-by-step instruction milestones that force all sims to arrive at the aspiration in the same way. If TS4 is so intent on being in-your-face about all the content in the game, why don't they do this by making meaningful aspirations that show new ways of
combining gameplay aspects
? I have never really played with the voodoo doll since it is such a random thing that doesn't tie in with much else, but if there was an aspiration to be a ghost communicator herbalist voodoo man, I'd be much more inclined to play with it out of curiosity. If I had not sit down and tried to figure out how to use the voodoo doll right now, I would have never thought of playing this save file. There's a difference between gently guiding a player with ideas and opportunities vs shouting at them that this DLC has one new mechanic and you have to follow it exactly without different interpretations.
An earned sense of progression over a sim's lifetime - an accumulation of achievements and events - vs starting all over again with a different aspiration, and it having no real impact on a sim's life. That is the difference between previous iterations and TS4 goals.
What do you think?