Hello my fellow simmers
I love Micro builds and I thought it would be fun to have a challenge:
Requirements:
All Sims games
*New game/One Sim: Cheat in your desired Sims version for $20,000.00 Simoleons (Sims 4/One Sims household/20,000.00)
*You can buy any size lot.
To make those Simoleons Sing by only using the 20x15 lots for your Micro Mini Builds.

Newcrest

20x15 Oak Alcove 1500

20x15 Comfy Cubby 1500

All 30x20 Newcrest are 2K each

Oasis Springs

20x15 Agave Abobe 1500

20x15 Raffia Quinta 3500Willow Creek

20x15 Streamlet Single 1500

20x15 Crick Cabana 1500

20x15 Rindle Rose 2000
Thank you EuphorialQueen for this information!
* Third party CC is allowed. Be sure to give credit to the creator.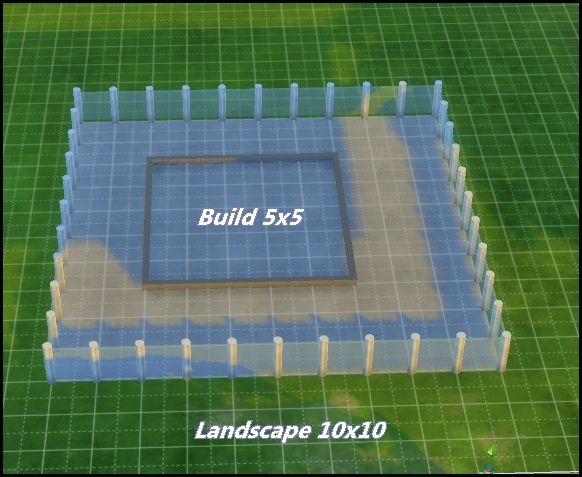 *Footprint for build can not exceed 25 tiles (5x5) in any configuration . Landscaping not to exceed 75 tiles in any configuration.*You can place your staircase in the landscape tiles*
*Above picture is just an example layout.
*Pause game and build your Micro Mini.
*You may have basements/additional levels.
*Have your sim in least one capture of your build
* Share as many captures as you want.
*Share your download link, if uploading. Use #MicroMini
Sounds fun, right?
Well, let's have a theme.
Theme #1: Your Username
Suggestions: Your favorite color/Real life hobbies and or interests. Things that make you, well, you.
Time period:
Whenever: This is an open end challenge. No due date.
Number of builds:
As many as you like.
Post a comment in this thread with a link to your build in your showcase or downloads thread on this forum.
Inspiration thread
Tiny House Challenge by catmando830
Have fun!
Tips:
I posted about stacked stairs in the thread earlier:

Just place the stairs somewhere on the lot and delete the underneath walls, then place on top of existing stairs. Or delete underneath walls of already placed stairs, and build new stairs below. You can place walls around them once they are in position if you want.

You do need to leave 3 tiles "headroom" hole.

Also, tops of stairs auto ignores/disappears railings/fence, it comes back if you move stairs... But bottom you need to clear/delete it.