Hello, and thank you for your interest!
After many weeks of creating, testing, and some bad errors, Arcadia ia now up on the exchange for the experience of Simmers everywhere. No custom content nor stuff packs have been used, but I did use each Expansion Pack. This is my first world, so some errors or problems may have slipped through to the final version, is you do find something, please let me know and I'll try to fix it. Thank you.
---
Here is the link to the download!
---
LOAD THE WORLD IN GAME, SAVE THE WORLD, QUIT TO MENU, RELOAD WORLD. This is because a certain special effect cannot work on initial play, and will render as fog. You will need riverview downloaded for the effect to work, and I used the first six expansion packs in the making. I don't own any stuff packs, They don't interest me. I also don't own Lunar Lakes, (but I do think the world is very cool), so the objects sold with the world are not in Arcadia.

ADDITIONALLY!!! THIS WORLD USES THE FOLLOWING EXPANSION PACKS: WORLD ADVENTURES, AMBITIONS, LATE NIGHT, GENERATIONS, PETS, SHOWTIME. I'VE RECEIVED PLENTY OF REPORTS ALONG THE LINES OF "99% loading but then stops." THIS IS BECAUSE THE WORLD USES THESE SIX EXPANSION PACKS. I'm truly sorry to say this world will not work without them. I plan to update the world for supernatural, seasons, and university life over the coming springbreak (March24-29), but release it as a second version so people who don't own the nine ep's can still enjoy this.
---
Here are some mods which will improve the post-apocalyptic experience. These are by no means required, but recommended.
- Removes the ability to buy food from the fridge. It only affects the active family, every lot has a garden, so get your green thumbs up.
- Forces sims to walk, not run. Truly looks weird in a small village with everyone running like there's going to be a post-apocalyptic apocalypse.
- Gives the option to control who works at the registers in towns, Why would the Mayor be working in saloon anyways?
- Allows you to sell anything at a consignment store. I'm not entirely sure if this also means you can buy anything, but it would be very interesting if so. The consignment shop is one of the most important buildings for Arcadia, and this greatly improves it's usefulness.
- Base mod needed for following
- This mod gives your sims more self employed options to choose from. Some are interesting, like trainer or being a hacker. Since there are no rabbitholes, this will give the town more variety.
- Although this gives you a LOT of options to choose from, I reccomend using it to turn off immigration and emmigration. As far as Arcadia knows, no other surviving Vault exists, and new neighbors would be a little, well, suspicious.
---
Welcome to the Crash Course tour of Arcadia, We here hope you find your experience enjoyable!
Let's start this tour with the golden rays of sunlight only a desert heat could produce.
This is Vault 102, the former home of all Arcadians for the past two centuries. It may not look like much, but inside if the technology beyond comprehension, and the homes to a number of residents.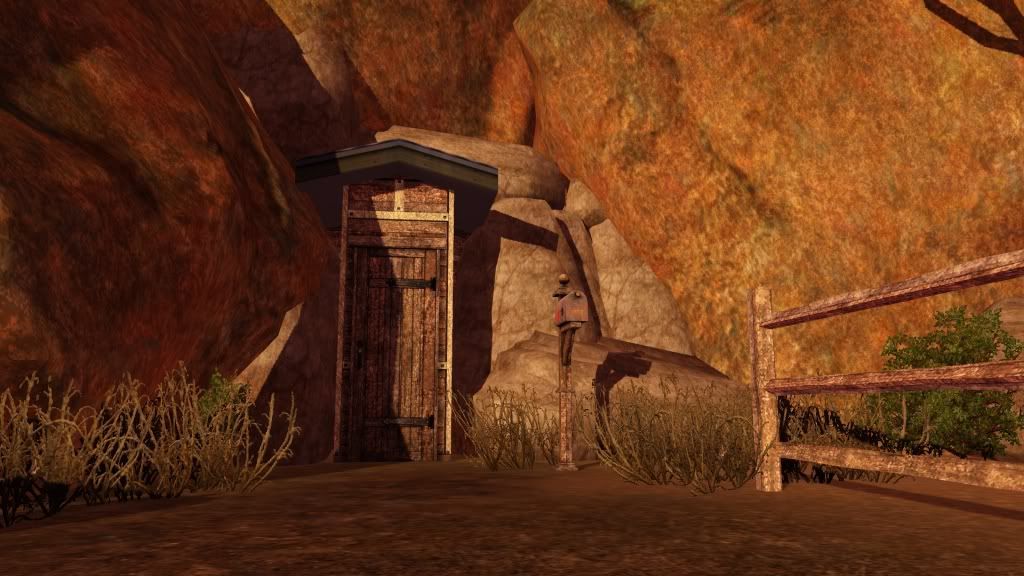 Why, just look at house clean the Vault is! Some folk like to say that back in the day, people used to prefer cleanliness over this "Squalor" we live in. Maybe it's because the pristine Vault has so many haunting memories, but I certainly prefer the lovely grime of the outside.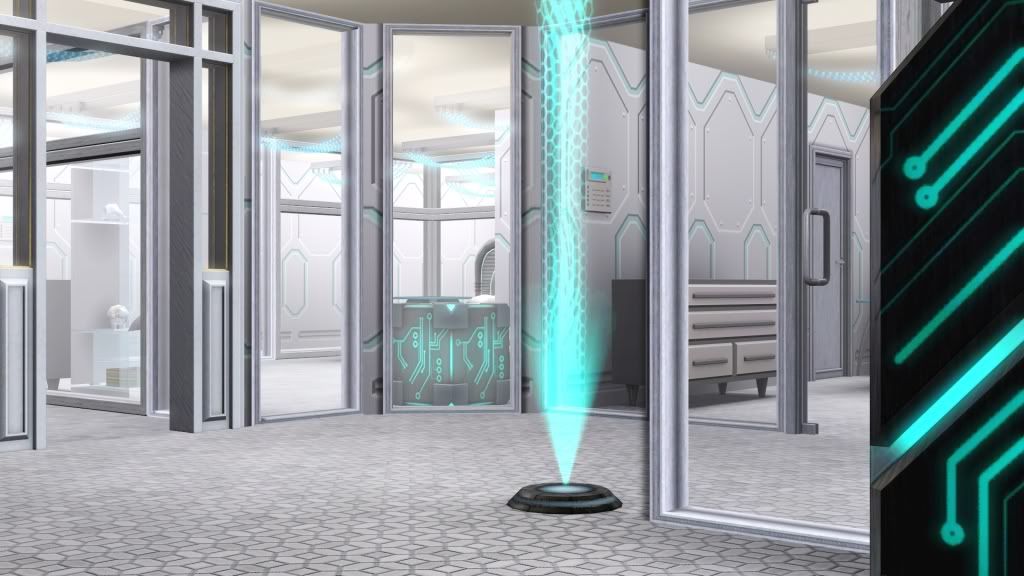 A large creek was created by a A-bomb mishap, the detonation rattled the walls of the Vault, but time healed and plant life grew in the watery radiation. Fish have even found their way here, but mutations have turned them into salt-water breathers. They seem almost identical to the sea-life before.
Ahh yes, isn't the village beautiful in the orange bliss of the morning sun? Don't worry, the sand is not as hot as it looks.
Here's some of the homes of Arcadia, they're just waking up right now, and ready to craft a world of tomorrow.
School above ground may have been discontinued, but kids still need to report in for their Vault G.O.A.T. I wonder where all the school supplies went...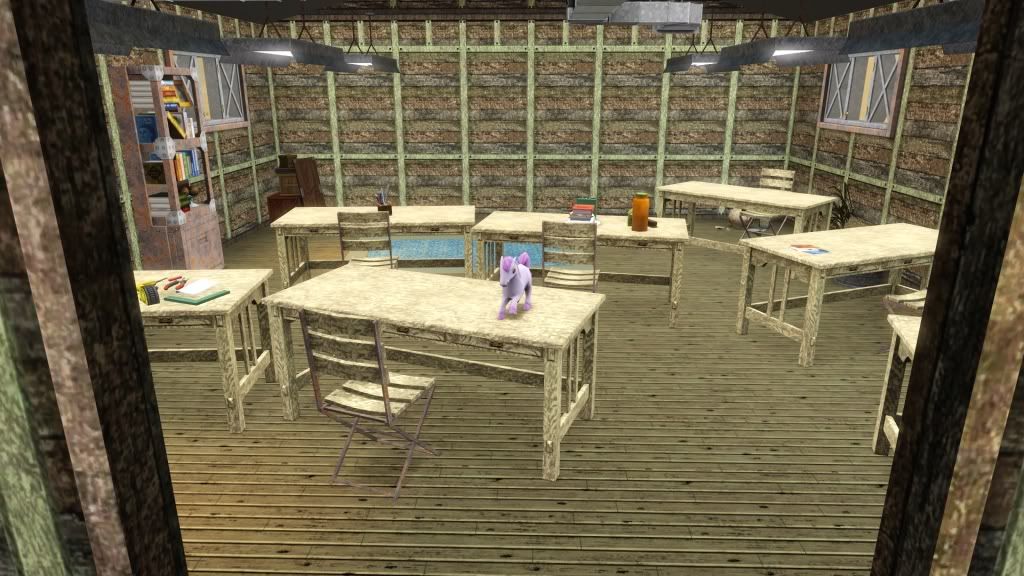 Even in the world of post-apocalypsia, fashion finds it's way to ruin all of our lives with drama and snickery. So get your body and happiness covered in a the latest trends and sense here at the Choppe Shoppe!
Have a lot of junk? Well, by junk I mean junk that junk would think was junk. Sell it here at the Arcadian Bazaar!
Hmm, something doesn't seem right here. Why is Harry the Hoarder, and YK-8019 in the Fontain house messing with his cats and dogs? Whose to blame now.
I tell you, this graveyard just feels spooky at night. Stories of odd happenings and such. Probably the youth making up rubbish.
When your fire station burns to the ground from fires and nukes, behold the Back-up fire station! Just don't burn this one too....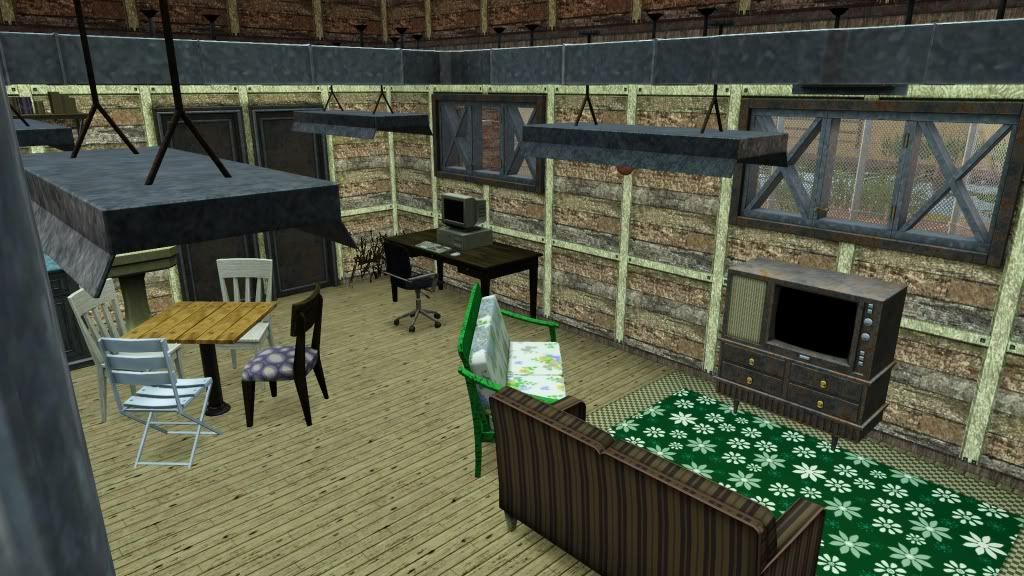 Such a beautiful blue hue of sky. Who would have though the radiation would also nuke the damages put upon the atmosphere?
Oh, look what we have here! It's the town Geminoid (that is, a robot who looks like a human girl). What, you didn't think everyone had rocket boots, did you?
Aren't the 8020's such a lovely couple? Being more sleek and stylish then the 8019's, they certainly let their appearance go to their cpu's.
If you are feeling up for a little lesson in history, visit the Museum of History! Ol' Kylve spent hours making all the animations work, building the sets, and even writing description plaques for the unlearned! Surely more fun than most museums back then.
Visit the Academy for some whole-hearty whoop-butt Sim-fu! Even XJ-8019 is eager to learn the arts. At least she's not forgetting she's afraid of water right now.
Most of the town's water comes from a healthy spring not far off. They named it Good Springs. Honestly, when deciding the name of the town, they debated wether or not to base it off of those classic Resident Evil movies, or the Vintage games of Fallout New: Vegas. They voted 6-5.
Sure has been a hot day today, why not cool off in the town's landfill-errr pool.. Cess pool. don't worry, the water is safe, maybe you'll find something cool underneath the water.
Not far away are the Mojave Geysers, spewing steam and fish twenty-four hours a day! Feel free to fish!
Why not tip off the evening with a trip to the Totally Radical Radscorpian Diner? Buy some food and a drink for great prices.
Meet the staff, feel free to sit indoors or outdoors. restrooms in the back.
What a day! Maybe you should plop by the laundromat for a some clean sheets. No doubt the sweltering hot air and fallout have left you smelly
Just look how the city lights up in the night sky. Too bad some magical features prevent light from leaving the lots as much as they should. Don't get lost, Arcadian nights are DARK.
Oh look what you just did. Didn't I just say not to get lost? Well, if you can see, this is Nuka-Creek. The waters always glow brighter in the night.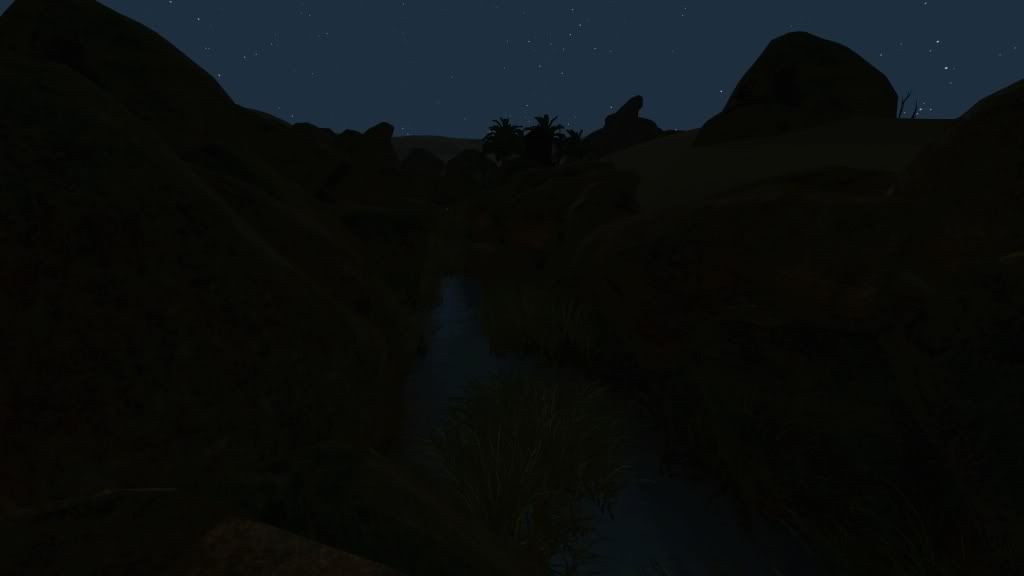 Oh, oh dear. Oh what have we here? Oh has the time come undone? Oh has life become more fun? Oh the merryment, Oh the excitement. See what nukes have brounght hinder. The land covered not in flames, but a Nuclear Winter.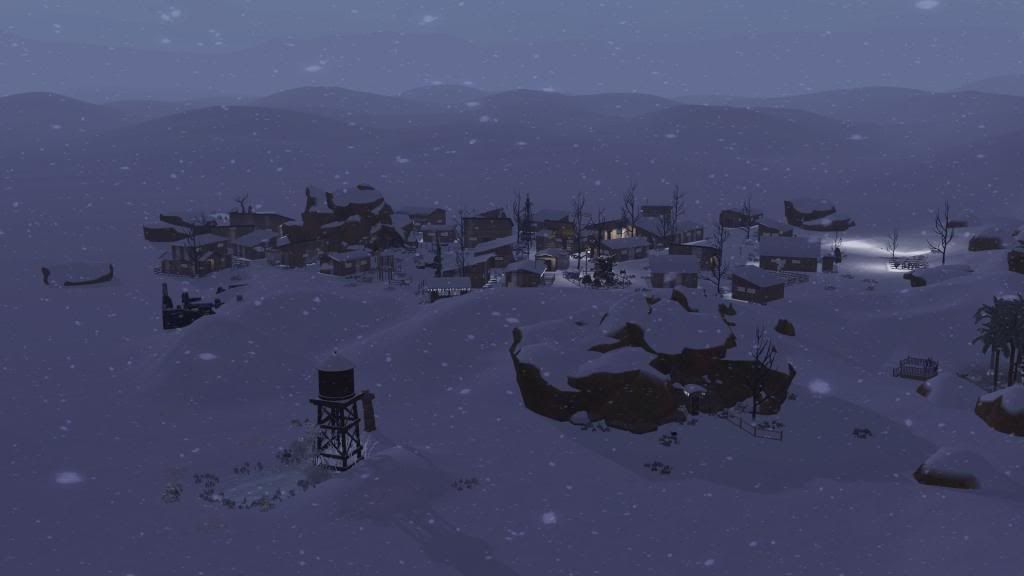 What a great tour! I hope you have enjoyed the sights of Arcadia, but one last thing before you go, take a look up at the sky. Make a wish on one of the hundreds of meteors. Shooting meteors may be only 1/8th a wish of a shooting star, but it's still a wish! Now, since you are obviously a resident of the settlement since no other surviving Vaults have yet to be found, can you grab me a chilling bottle of some Nuka-Cola as we sift through all the puns and references?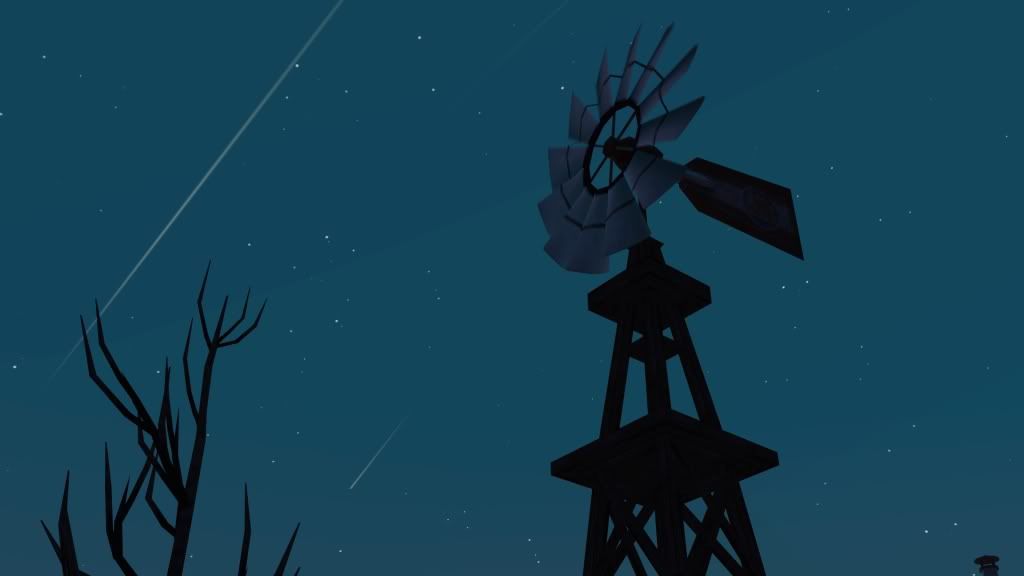 Thank you for your patronage, watch out for super mutants, don't listen to Black Mountain Radio, shoot the zombie dogs whose heads split open, make regular trips to the hospital to fight off infections, and DIE ZOMBIES!!!
---
Thank Yous go out to
Writin_Reg Helped me with a lot of stuff and made this world possible
natchnatch Was apart of the testing experience
Matpeng Helped me with the Vault
MoriGelopi Was apart of the testing experience
Katluckie Was apart of the testing experience
xSorcier Was apart of the testing experience, offered pictures to help, too.
Simsample Many useful tutorials over on ModtheSims
---
Arcadia Wishlist
The following are things I would like to add to Arcadia, but cannot for certain reasons
1. Casino as a downloadable lot - A small shack with silly lights, slots, and blackjack. Reason why can't: Don't own items b/c not enough Simpoints
2. Underground Subway - Would have trouble with placement and lot size. Ideas for this would be gladly appreciated
3. Method to change currency to bottle caps - Why not? Drink a soda, get a little payment back.
4. Sandstorm weather patterns - Petition anyone?
5. SUPERMUTANTS - OH come on! how cool would this be? not the supermutants you'd shoot, but the kinda supermutants like Fawkes, or even those Nightkin at the lodge as household characters. (wouldn't mind the banter from Black Mountain Radio in all the homes, though.)
6. Radiation and Rad-away / Rad-X - Possibly a mod? I'm not versed in the methods of mod creation, but I'd hugely appreciate the help