Hi everyone.
Please read this post before downloading and installing; especially the
Known Issues
section!
Today I wanted to share a build that has been 3 years in the making! For those who followed The Amallais Palace project thank you for all of your support. Unfortunately the lot I'm uploading is not the palace as the thing was so large it just kept spawning error code 12 messages. So I went back to the drawing board and subjected the hulking thing to a radical diet.
So without further ado I'd like to present:
Teach Conchobair
Constructed in 1702 in the popular English Baroque style this Irish 'big house' is the home of the Ua Conchobair dynasty. With the former residence Caisleán Conchobair completely destroyed by fire Muiredach Ua Conchobair designed this lavish property to impress even the most discerning Englishman whilst keeping the families supernatural secrets firmly away from prying eyes.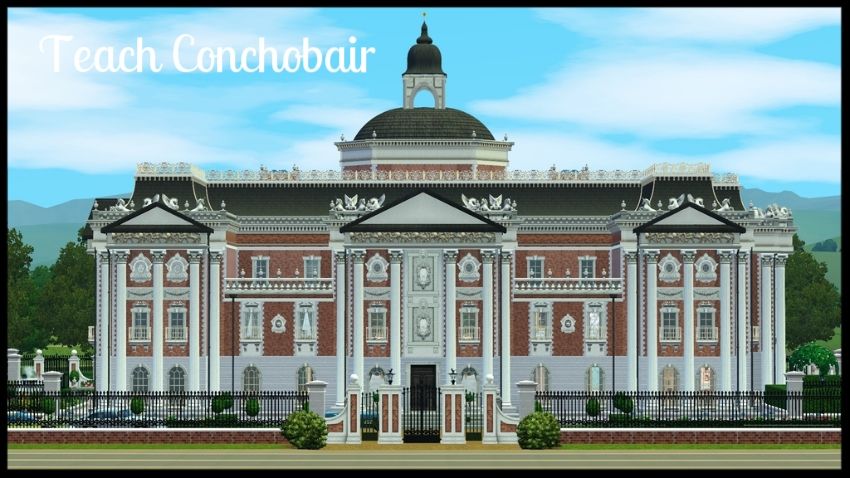 The name is Gaelic in origin and is pronounced "tchack croch-huer" (sort of). Anyway it translates as O'Connor House. The time period for this property is around the 60's, 70's or 80's. Pre-laptop but post plumbing and electricity!! The build its self contains 4 bedrooms, 4 bathrooms and a small hidden tomb.
Highly recommended game mods:
There is one mod I highly recommend installing for this lot; this being .
This mod is AMAZING! If you don't want unsightly hampers in all your lavish rooms then you just need to replace the Ambitions one with Nona's in the laundry room downstairs and it will automatically collect laundry from all over your lot!
A matter of taste:
These mods are merely recommendations however I like how they complement the lot. I personally hate the EA parking lot and thankfully Huge Lunatic's eradicates the eyesore.
I also feel the EA texture for the shrubbery fence is just a bit to plasticy. Leefish's overhauls the textures of the fence to give it a shrubbier look. If you want this mod it's the file labelled "default replacement" you're after.
Known issues:
I've placed screens in the two bathroom suites which unfortunately sims can have a habit of routing through. If this really bugs you then placing this made by TB creations will resolve the issue.
After placing the lot you may notice the transparency on the curved iron fence in the Mural Hall and the Library has been lost. To remedy this just go into CAS and alter the colour ramp slider slightly and the transparency will return.
Finally this is
BIG
lot (64x64) with a lot of CC. I would discourage installing this lot if you're running to low end computer or already have multiple large lots already installed in your town. Running your game under these conditions could cause your game to crash to desktop or for you to get error code 12 upon trying to save.
Even if you've got a great computer and very few other large lots I would still recommend saving in map view, or off lot at the very least to reduce the risk of getting an error code 12 message. As with any installation of CC please back up your game and use 'save as' not 'save' so should anything go wrong you won't lose too much of your game progress.
Expansion packs used:
I've used World Adventures, Ambitions, Late Night, Generations, Supernatural, University Life, Island Paradise and Into the Future. I've not used any stuffpacks.
Final comments:
To construct the library I cloned the Distinguished Bookcase to create a 2-tile and 1-tile decorative bookcase. These decorative shelves have been used where your sims are unable to route of if access to the shelf is blocked so you shouldn't get any simmy tantrums. These non-functional bookshelves hide when the walls are down whereas the functional bookshelves do not so during gameplay it should be easy to tell which ones you can use.
Furthermore many of the decorative pieces adoring the wall and the roof its self have been placed using . You don't need this mod for the lot to work however if you remove the decorative items you will need the mod to place them back in their original position.
To get the fish in the fountains I used . Whilst you don't need this for the lot to function if you delete the fog emitters you will need this mod in order to put them back at their correct height.
Download:
So all that remains to say is here are your download links! Here is the , the and the .
The lot is a package file as I hate the Launcher with a passion. It is simple to install; just pop it in your Document > Electronic Arts > The Sims 3 > Library folder.
All the CC for the lot has been combined into one single package file which needs to go into your Documents > Electronic Arts > The Sims 3 > Mods > Packages folder.
For those of you who don't have a mods folder please follow on how to set it up.
Finally the patterns are in a zip file. 5 are in sims3pack format so just get installed through the launcher. 2 are in package format so again these will need to go into your Documents > Electronic Arts > The Sims 3 > Mods > Packages folder.
If you're still a bit confused about where the files or what to download then please feel free to post here and I'll try my best to help.
Feel free to edit, distribute, share, overhaul, re-upload or whatever. The only thing I ask is that you don't claim my original work as your own. Screenshots will follow in the next post.
Nora xx
P.S Phew! Epic post!