This is just examples of things I would love from past iterations of the Sims to be in the Sims 5. I have also added things id like to see for sims 5 that aren't apart of any game so far.
SCROLL SLOWLY PLEASE AND ADD YOUR COMMENTSSims 1
The whimsy
The creative NPC's - especially the roving musician from the restaurant, the organ grinder guy with monkey, the saxophonist, the obsessed fan all of these NPC's had flavor and enhanced the areas they were in
The Superstar neighborhood I liked its general feel.


The Cake Dancer


Sims 2
The best details in terms of the Sim's involuntary actions (like shielding the eyes in bright sun). More small details like this would be great
The memory system
The attraction system - Turn Ons, Turn Offs They can do basically the same ones

The Western Zodiac
The cut scenes for huge life events
The traits seemed to have more impact like messy Sims didn't make their beds
Setting climates for each neighborhood so they made sense
The best functioning hotels - Hotel Desk, Locking Doors, Maid Service, Concierge activities, Room service, shuttle service
Stable restaurants - Family could have job positions, plus the table interactions, the roving musician
The Ice Cream Parlor & The Candy Store with all the associated Build/Buy pieces to make it work
The Hair Salon

Pet Jobs
The Newspaper, The Paperboy/Girl, the births and obits, the crossword puzzle, The Horoscope. The chasing of paperboy/girl by dog
Interests - Sims Child through Adult and dogs and Cats all had interests appropriate to them
Bon Voyage - Camping area activities


Bon Voyage - The Zen Garden

Purchasing jewelry
The Hobbies and their enthusiasm - can work with clubs but the enthusiasm was a nice touch
Pet Store - Grooming Tub, Trainer, the actual store assets
Parrots, Cockatoos - Training them and getting them to speak and giving them treats

The cage for the smaller birds was the best the Sims has ever done
The 3 universities instead of two
Juicing
The Carpool, the Bus for kids - you could even see the driver honking
The garden judging for the garden club
The Private schools - (different uniforms, types of schools and their bonuses) and the Headmaster scenario because a level of difficulty in order to get into private schools should be there.

The witch alignments (neutral, good, bad, very good, Very evil)
Retail experience was better, you could even see simoleans changing hands, the changing rooms, the generic radio stations,
Car Lots - where you can purchase automobiles
Sims 2 had the best weddings (only because Sims 4 messed up their wedding pack) and you could plan for a honeymoon that a Limousine took you to.

Chess Tournaments those need a comeback
The Jump Rope, Exercise Bike and Chin up Bar

The functional garage doors for gasp! garages and driveways
The fabulous awning tool and the Wrought Iron and Glass Awning from Apartment Life


Playing Marco Polo in the pool
Tai-Chi and Mahjong

Tea ceremony
Sewing and Pottery Making


Trimming bushes, pulling weeds- The Gardener had more to do
How writing books was done
Bird watching from Free Time

The Yo-yo & Juggling

The Lemonade stand

The Skunk, The Raccoon and most importantly the Alpha Wolf
The different greetings for the different social groups
Tuning Instruments
Winding the grandfather clock and it chimes
The food contests

The Putting green

The Elevator Build pieces



Sims 3
Open World
Color Wheel - and more channels to choose for color and patterns
CAS Hair color being divided by root, shaft and ends
Create a Pattern
The Gorgeous neighborhoods - the detail work and variety of the neighborhoods was the best its been in Sims 3
Cemeteries
Weather, Temperature and Seasons - Only better than Sims 4 because it has Fog, Hail and Deep Snow
The Moon cycle


The Town Center where the Seasonal festivals were held. They were better than all the fairs Sims 4 had
Generations & Supernatural almost everything was perfect. The Vampires were better in Sims 4 though
The Fairies & Werewolves


World Adventures - (minus the hostels, See Sims 2 Hotels), the adventure aspect was great fun, the countries were gorgeous, camels in Egypt was a missed opportunity, the mummy, Archeologist as a career was also a missed opportunity
Nectar Making was excellent in World Adventure. I'd even keep the grape varietals
Vacation Homes
Cars - the car alarm, the radio, setting ownership, teaching teens to drive, parking "wink", Parking Spaces
The Ice Cream Man - I don't mind the food stalls I just dont want them in place of proper bricks and mortar lots

Horses, Horseback Riding, the Horse barns and Unicorns



The Rabbit-holes - But ONLY for specific places and the actual buildings must be shown - Town Hall & Courthouse, Military Base but not the obstacle course, The High school, The Private Schools, The Warehouse, The Volcano Base, The University classrooms but not the Student center or labs and lecture hall. The Office Building, The Hospital, The interior of the Equestrian center but not the obstacle course, The Fortune Teller's Caravan ((I loved the music), The Science Lab and Observatory, the police station, The movie theatre but not the lobby
The Mermaids were better in terms of playability based on all the cool dive spots and the hidden island
Firefighters and the firehouse
Police, Burglars, Burglar alarms
Being able to swim in almost all bodies of water
Skating on frozen lake
Scuba Diving including deep diving
The Deer
Martial Arts - The different belt colors, the sparring, the equipment, the martial arts school. All wonderful

The Snake Charming - Needs a comeback in the next desert area

The Scooters from World Adventure
Gem cutting

The Subways & the Lightning Leap Atomic Molecular Arranger that bear a striking resemblance to the TARDIS


The cleverly named scholarships for university
Houseboats, watercraft and boats of all kinds
The Magic Store

Doorbells and changing their chime
Pool Tables and their associated hidden skill and the tricks
The Life Skills Books - Fire Safety, Parenting, etc.
Trick O'Treat


Elders using canes
The Showtime Magicians

The bachelor parties with the dancers

Flowers and allergies during the spring months
Being also to change flame color in fireplaces

Setting color and intensity for lights a detail Sims 4 has as well
Doorbells and being able to change the chime
Spiral stairs, Modular staircases, Grand Staircases, Sliding down banisters
Composting
The Green House Roof - I actually like this roof for Grand conservatories and solariums in mansions. I like the basic Sims 2 version for small homes


The Festival Items - Apple Bobbing Tub, The Face Painting Booth, The Food Stalls for Seasonal Festivals, Kissing Booth, Love Tester Machine, The Food eating contests.





Prom

The Ghost's differing colors & Ghost Hunting


Sims 2 & 3 had better pet gear


Sketching, Sculpture work, Glassblowing, Photography


The achievements for skills and collecting beyond getting skill level 10
The Amusement park - It was a good lot. To make it really awesome it would have had to had a ferris wheel and more Midway games


The Geisha Statuette from the Sims 3 store

Sims 4
The Vampire Pack - The vampire were superior to past vampires from everything to their powers and weaknesses, the detail stuff like making garlic wreaths and chains and bringing back the coffins and other tropes from folklore and the movies. I even love the Bleh! Seriously if they had the cape thing Bela Lugosi did I'd love it all the more. I would have loved it if they had brought back the Vampire specific fog from Sims 3.

The Veterinary Clinic - Illnesses and injuries
Holidays, Event Planning, Holiday Traditions all were fabulous - Do that again
Loved the clubs those were great
The variety of fairs and cultural festivals - Sims 3 did the seasonal festivals better by far but variety is the spice of life and exploring other cultures is quite fun. The food selections were good and adding them to the potential restaurant menus was a good idea
Separating Cooking from Baking - Baking should have been a base game skill.
The restaurant menu - this was a nice touch. It just needed to be tweaked so courses came out properly. Being able to add to the menu and setting it to create restaurants with different cuisine is always the right thing.
Lot Traits - I hope in future they have strong impacts for lots this can help make visiting different lots more unique.
Hats separate from hair
The voice modulation
Setting the holiday decorations for the outside
Setting the phones ring tone
Trimming the Tree
The multiple outfits one can plan in the different types of clothing
The walk styles
Hiking
The Water effects - ducks, reeds, bugs etc.
The Skating Rink - I love setting up the lights, effects and music.
Cooking the grand meal for holidays. I'd definitely keep that but maybe add to it with international dishes over time
Rock Climbing
Snowy Escape - The Winter Sports - would have been better in a European Ski Town. So that the Japanese aspects could have been better
Snowy Escape - The Bath House, Kotatsu, the hot pot
The mermaids were better in the Sims 4 because of their new powers. They were also somewhat prettier

Snorkeling - I think it had its place WITH Scuba not in place of it
The sub sections of career paths
Setting the table
The holiday themed door mats. I love doormats and change mine often for the time of year or for holidays


The Holiday Garland and the mistletoe
Patchy the Strawman - I love that the Sims 3 version had him doing silly dances and scared Sims
Pet clothing


Knitting, and the needle point

The bird feeder I would have given the clean interaction because birds love to poop on their feeders. Also they are making feeders now that have little string lights on the inside of it ran by solar power. Glows at night.
I liked the vacuums and dust as a concept. The execution needed work.
The Snowy Thunderstorm, Monsoons, Acid Rain

New things in the Sims 5 I'd love to seeCAS
Rain Gear and cold weather gear being separate
Sunglasses and they should be an inventory type item so that they can be put on when its bright and hot
Eye patches, monocles, pince-nez



Vocal Accenting in addition to voice modulation. American Southern vs English. California Valley Girl vs French. Spanish vs New Yorker
I'd like to be able to set rings on more than one finger
I'd like to see dental as a customizable category. Vampires in Sims 4 could choose their fang style why not everyday Sims?
Preferences should be in the Base Game and they should be as follows Favorites and Dislikes.
Basic Fingernails & Toenails being in the base game. I can wait until a Spa Day style Game Pack come for customization or even have different styles and colors added with EP's for example Werewolf claws or Vampire fingernails
Sims 2 had a system called interest for Sims and pets. The amount of points you had in a particular interest influenced how often you engaged, thought or talked about it. The points should be replaced with sliders and the set Interests can be anything between 0 and 5 max interest. The interests should not be choices that are in the favorites/dislikes.
Dietary choices should not be a personality trait and waste a slot. They should be separate choice that all Sims get. Omnivore, Vegetarian, Vegan. Food Favorites and dislikes will come from all available food options once this is selected. So a vegan won't have steak as a Dislike or Favorite because they don't eat animal products, but using the remaining food choices they love Vegan lettuce wraps but Dislike Vegetable soup.
Favorites/Dislikes
- Since most people have more likes than dislikes. Favorites will have more options. EXCEPT Grumpy or Evil Sims who will have fewer Favorites and more dislikes.
Activity
Book Genre
Color
Flower
Food
Movie Genre
Music
Pet - Dog, Cat, Birds, Horses, Small Mammals, Reptiles, Insects, Loves All Animals, Hates Animals
TV Genre
Vacation Zone - Amusement Park, Asian Destination, Casino, Desert, Forest, Jungle, Modern City, Mountain Ski Lodge, Old World City, Tropical Island
Weather - Dark & Stormy, Foggy, Snowy, Hot & Dry, Sunny & Cool, Sunny & Warm, Thunderstorm
Pets
Dogs and cats in the Base Game. I'm cool with them being a tad limited on what they can do at first as long as they are always considered in subsequent EP and Game Packs. If they are Base Game, then the same CAP that made them can make other kinds of animals like a raccoon or a fox with less fuss. Then in order to differentiate the new animal species from cats and dogs its just a few new animations, interaction and sounds.
Significant height difference in dogs. Sizes should be Toy, Small, Medium, Large, Xtra Large. Great Danes should not be the same size as Labradors.

Vaccinations, Micro-chips, pet licensing, Teeth cleaning, Heartworm medication all at the Vet Clinic
Pet jobs should provide outfits for the pet to switch to on their way to work. They should also get a carpool.



When a Spa Day type pack comes along it includes grooming for pets. Including painting the nails on paws. At a separate facility of course. If the Spa Day is done like the one in Sims 4 plus a bit of pet bathing and fur drying at a Groomers that should totally be worth the money.
It would also be nice to be able to knit or sew new clothes for the pets. If they are Base Game all sorts of things will apply to them.
I would make a Pets Game Pack that focuses on Birds and the small pets. So all the cute bird interactions from Sims 2. The bird stand for the parrots and other pet birds. If you have this pack AND a Get To Work style pack then you get the Pet Shop.
Best in Show and the obstacle courses as contests
Occults
Different creatures having natural affinities or aversions to one another. Good Witches get along with nice Fairies. Spriggans (bad fairies) liking bad witches. Vampires disliking Werewolves naturally, etc. It adds to the drama
The different creatures being able to use their powers to duel against one another like Vampires against witches. Etc
It would be cool if certain creatures preferred certain types of animals as pets. For example Vampires like Bats
I would honestly love the "Nosferatu" Shadow.


I'd like it Vampires could change into the Man-Bat for like in Bram Stoker's Dracula and command the rats


Frankly in a Sims 5 pack if you just rinse-repeat the Sims 4 Vampire Pack with the added bonus of being able to duel other creatures. That would be a bonus. Oh and Im not sure if this was really a thing but it should be.
Vampires, Witches, and the folks who are in the Fortune Teller career should be able to do Alchemy with greater speed and success.
The Witch familiars from Sims 4 were cool but I wish they were capable of doing more and interacting with the Witch
Certain traits should prohibit the creature from being certain things like an Evil Sim could never be a good witch. Evil Sims who are Fairies are automatically Spriggans.
The Witch powers from Sims 4 were a touch boring. Why not have them do things with more pizzaz like more enchantments kinda like an upgrade but on objects that aren't upgradable like a broom for instance that sweeps by itself. Enchanted Dolls, Enchanted Candles, Enchanted Jewelry all great suggestions.

Personally I'd divide Spellcaster spells into Enchantments, Divination, Practical Magic, Defensive Spells, Offensive Spells, Healing Spells, Hexes/Curses. Each spell has an alignment and the more you use a particularly aligned spell the more you become that alignment. Just like in Sims 2
Witches and Fortune Tellers ONLY should be able to both use Crystal Balls, Tarot Cards, Gris Gris Bags, Magic Candles and the Voodoo Dolls

Only those in the Fortune Teller Career should be read Tea Leaves and Palms


Fairies can and should retain the inspirational powers they received in Sims 3 as well as their fun loving and trickster ways but why not play with other folklore concepts to make them new feeling.
Paracelsus promoted the idea that the four elements (Fire, Water, Earth, Air) had four elemental spirits associated. Water - Undines, Earth-Gnomes, Fire-Salamanders, and Air - Sylphs. Later people took these ideas and applied them to other folklore. Undines became Mermaids. Now leaving the Mermaids aside for the moment that leaves the other three. Sylphs we often compared to fairies. Taking this information we can play with the lore and divide the three elements among fairies. Evil Spriggans can have fire powers and fire themed wings. Fairies can choose to specialize in the one of the other two elements and their powers, coloring, wing style and general esthetic can be formed from that.

If we went with the above idea Mermaids and Fairies would have an affinity towards each other.
Fairies who select the earth element will have an affinity to Plant Sims and share their positive influences on plants
Mermaids should add comb hair to their actions as in folklore they do that a lot
Mermaids should have a little mini quest to find a trident
Mermaids should be able to do the hula dance naturally
Fortune Tellers can create Star Charts to sell to Sims
Education
Being able to get higher degrees in the University - Masters & Phd. Higher pay and better positions with better education. Traditional changes to Cap and gown styes

Child and Teen Sims get the ability to go to Private Schools and are the ones previously establish in Sims 2 with the same colors of uniforms
Careers
Some careers should impart a title or rank, visible to players in the character screen. Mayor, General, Officer, Sergeant, Detective, Doctor, Fire Marshall, The Honorable (for judges), esq. for Attorneys, Professor, Agent for spies, for example.
Medical Career should have these paths - Medical Doctor, Nurse, Dentist, Psychotherapist, Veterinarian. All should convey the title of Dr. except the nurse.
Detectives should have two paths - Police Detective, Private Detective
Certain Personality traits should influence specific career paths. Insane + Scientist = Mad Scientist, Evil + Criminal = Mastermind, Evil + Espionage = Rogue Agent
If you own a business you should be business owner or something similar (restauranteur or florist etc.) instead unemployed as a career
Archeology as a career
Skills
The dancing skill to not only impart proficiency with each level BUT to add a new style of dance. Tango, Salsa, Tap etc.
Baking and cooking skills separate but both in the Base Game
Perfume creation
Cleaning as a hidden skill again
Jewelry making
The Life skills should make a comeback but you have to take the class and pay for it rather than just reading books. Fire Safety, First Aid, Parenting, Anger Management, etc.
Alchemy should go back to being separate from a Witches Spell casting. However only Fortune Tellers, Witches or Vampires can learn it.
Hidden skills are fun I like the idea of a Sim getting better at a game or activity over time.
Cleaning Chores
- Not Counting Laundry
Change Sheets
Clean - Aquarium
Clean - Bathtub
Clean - Bird Cage
Clean - Bird Bath
Clean - Bird Feeder
Clean - Coffee Machine
Clean - Fireplace
Clean - Grill
Clean - Guinea Pig Cage
Clean - Litter Box
Clean - Microwave
Clean - Out Fridge of Spoiled Food
Clean - Out Lint Trap in Dryer
Clean - Pet Food Bowl
Clean - Pet Water Bowl
Clean - Sink
Clean - Shower
Clean - Stove
Clean - Toilette
Dust - Bookcase
Dust - Coffee Table
Dust - Desk
Dust - End Table
Dust - Fireplace Mantle
Dust - Night Stand
Dust - Piano
Dust - Sofa Table
Dust - Statue
Empty Vacuum
Mop
Run Self-Clean Cycle on Dishwasher
Run Self-Clean Cycle on Washer
Sanitize - Weight Bench
Sanitize - Bicycle Seat
Take Out the Trash
Vacuum
Wipe Bar Counter
Wipe Counter
Wipe Mirror Glass
Gardening & Floral Arranging Gardening
Can we please have plants that more similar to their real world counterparts. Ground plants don't look like bushes. For example carrots and potatoes. Strawberries are also not a bush plant.
Gardening to keep cross-breeding and grafting but in a more realistic way. For instance to get new varieties of lilies, orchids, roses, tulips
If you introduce a cuisine that relies heavily on a certain fruit, veggie, spice don't be afraid to give that new harvestable along with
Its ok to confine certain plants to certain zones to grow without the use of a green house. We should expect to have some challenge in the game. If I want to grow bananas in a temperate zone I can build a Green House.
I feel like Maple syrup collecting is a cross between Gardening and Cooking so I'm not sure where to place it per se. I think it would be a great new activity.
I used Sims 3 canon grapes, coffee beans and some University herbs. I say keep it canon.
I listed all the Base game fruits and veggies based on the most common in the most cuisines for cooking and baking.
Base Game Fruits and Veggies
Apples
Basil
Bell Pepper
Blueberries
Broccoli
Cabbage
Carrots
Celery
Cherries
Chives
Cinnamon
Cocoa
Cucumber
Eggplants
Flat Leaf Vanilla
Garlic
Grapefruit
Green Beans
Green Peas
Lemons
Lettuce
Limes
Marjoram
Nutmeg
Onions
Oranges
Oregano
Parsley
Peach
Potatoes
Rosemary
Sage
Strawberries
Thyme
Tomatos
Watermelon
White Mushrooms
Zucchini
Expansion & Game Pack Fruits and Veggies
Allspice - Christmas Pack
Aubergine - Europe or Mediterranean
Avocado - South Western or South American
Bananas - Tropical
Black Beans - South Western or South American
Blackberries - Camping
Cantaloupe - Southern US
Cardamom - Christmas Pack
Catnip - Pets introduction
Chamomile - Coffee Shop Introduction
Cherry Pepper or Pimento Pepper
Chickpeas
Chili Pepper - South Western or South American
Clove Tree
Coconut - Tropical
Coffee Beans - Cortado Bean, Kona Bean, Maui Bean, Midnight Bean, Red Berry Bean, - South America or any pack with a coffee shop
Corn - Farm Pack
Cranberry
Cumin - Asian, Middle Eastern, Mediterranean, Spanish and Meso-American cuisines
Dates - Mediterranean or Middle Eastern
Dill
Elderberry - Camping or Mediterranean for nectar making
Figs
Ginger - Southeast Asia, Asia
Ginseng - Asia, herbalism or Coffee shop
Gooseberry
Grapes - Avornalina, Chermilona Blan, Cranerlet Nuala, Meloire, Gralladina, Fran Renoit - All Sims 3 Cannon varieties France or Mediterranean
Huckleberry - Camping
Jackfruit - Southeast Asia, Asia
Jalapeño - South Western or South American
Jasmine - Perfumery
Kava root - Tropical
Lavender - France, Europe or Mediterranean, Perfumery
Licorice - Herbalism
Lemongrass - Asia, South East Asia, Perfumery
Mangos - Asia, South East Asia
Morel - Camping or Europe
Navy Beans - Farm Pack
Narcissus - Perfumery
Olive Tree - Mediterranean
Patchouli - For the making of perfume
Pears - North America, Mediterranean or Asia
Pecan Tree
Peppermint - Christmas
Pineapple - Tropical
Plasma Fruit - Vampires
Plumeria Tree - Perfumery
Plums - Christmas Pack
Poinsettia - Christmas Pack
Pomegranate - Mediterranean
Porcini Mushrooms - Mediterranean
Portobello Mushrooms - Mediterranean or European
Pumpkins - Halloween Pack
Raspberries - Camping
Soy Beans - Farm Pack
Spinach - Farm Pack
Squash - Farm Pack
Sweet Grass - University
Sweet Potato - South Western or South American
Taro - Tropical
Tarragon - Mediterranean
Truffle - Europe
Magical Plants
Deadly Nightshade
Glow Orb
Hemlock
Love in Idleness - It's the plant from Midsummer Nights Dream by W. Shakespeare. Can only be obtained, grown or sold by fairies
Mandrake
Wolfsbane - Only Fortune Tellers can obtain, grow or sell
Red Toadstool
Valerian - Magic and Herbalism
Flower arranging not just being the table arrangements (Which I still want btw)
- Using flowers we can grow. It would be also nice to learn new styles in different countries for example Leis or Ikebana.
Boutonnieres
Corsages
Funeral sprays
Garlands for animals
Hair garlands
Leis - neck garlands like what you receive in Hawaii
Wedding bouquets
Wreaths for doors
I'd love Flower shows like the Brits do every year. With topiary sculpture judging. Garden judging . I'd love actual judges with little sashes. Would be a wonderful chance to really expand upon gardening and flower arranging.
Buy/Build
Attics, basements, sub-basements, ceilings, closets, Laundry Rooms (Washers & Dryers) Modular Staircases, Pantries and pools, all base game at time of release. It is a pain to retrofit these into existing building. Besides having all of the necessary building tools will greatly benefit the Game builders in the creation of future neighborhoods. Please don't release a game that doesn't have these in good working order.
Birdbaths with bird animations and four interactions - Fill, Empty, Clean, Watch birds
Ticket counters and Box offices to sell access to things like theaters


Please make Green houses have both the basic boxy style and the grander roof style from the Sims 3 store. That way huge public conservatories can be built on community lots or small sunrooms on a back porch
I would love castle build pieces and pieces for old run down houses like broken windows boarded up windows, roof textures with missing shingles
Microwaves that can be built into cabinetry
Ceiling placed fire detectors
Lighted Stove exhausts/vents


Nightlights for children and give the lights some sort of passive affect like soothing the child
Gem cutter table for Jewelry making
Gingerbread House kit. For Haunted Halloween House and the traditional one at Christmas

The Pantry - Cabinet to store dry goods. Sugar, Flour, Dried Herbs and spices, Salt, Pepper, Canned Goods, Olive Oil, Vinegar
Being able set railings individually on stair cases because it makes it weird when they are inside walls like in Sims 4.
Being able to add lighted garland to staircase banisters and rails
Lighted topiaries
Metal Detectors
Night Club stuff - Velvet Ropes for bar Bouncers, Go-Go cages like Sims 1 House Party, Smoke machines, DJ Booths, Dance Flooring, Disco ball, Nightclub dance floor lighting, smoke machines
Dive Bar - Pool Table, Cue Stick Rack, Pool Table Lights, Shuffleboard, Dart board, Mechanical Bull, Jukebox

I'd really like the doorbells back. I want to be able to change the chimes too. My security system irl actually has special ones for holidays. I'd like that please as well as mood types like Ode to Joy, spooky or gong.
Giant and personal telescopes. The small telescopes should be a personal inventory thing so that it can be placed anywhere.
Mantle places, piano, Hearth front of the fireplace, tops of book cases unless very tall, should all have spots we can place decorative items. The hearth front on most fireplaces should have a spot for tongs or wood for the fireplace. Mantles should at least be able to have a few decorative items.
I would like a fireplaces to have the Sims 4 upgrades, but the automatic turn on should only be automatic in fall/winter. Also for all fireplaces that have mantles it would be nice to have the add stockings for the winter holidays. It can just be decorative

I loved the bed upgrades in Sims 4 but they should have added an electric blanket with an on/off. You wouldn't want it on in summer
Water Cooler for gyms or Private Detective Agency

Built in Makeup Vanity for bathroom builds

Shampoo Sink for Hair Salons

File Cabinet to match book cases and desk for home and Private detective offices
Door wreaths for holidays - just click on the door - Add Wreath - and you pick from one of a few designs

Fortune Teller booth would be great at a potential Amusement Park. Not in place of the Fortune Teller.

Outdoor Holiday Lights - Color Combinations
- Not just for holidays but for parties and events.
Baby Blue
Baby Blue & Clear
Baby Pink
Baby Pink & Clear
Clear
Green
Green & White
Hot Pink
Hot Pink & Clear
Multi color
Orange & Green
Purple
Purple & Clear
Purple & Green
Purple & Yellow
Purple, Yellow & Green
Red
Red & Clear
Red & Clear & Blue
Red, Clear & Green
Red & Green
Red & Orange
Royal Blue
Royal Blue & Clear
Royal Blue & Green
Royal Blue & Yellow
Yellow & Clear
Yellow & Orange
The Ever Delightful Evergreen Holiday Tree
- Probably not what it would be called in Sims 5. Would have the same interactions as the Sims 4 version including Father Winter placing gifts underneath. The Carols Sims will sing around the tree will be Simlish versions of 1. Let It Snow 2. Jingle Bells 3. Deck the Halls 4. Good King Wenceslaus
Tree Decorating Options
Tree Color
Green
Silver
"Snow flecked"
Ribbon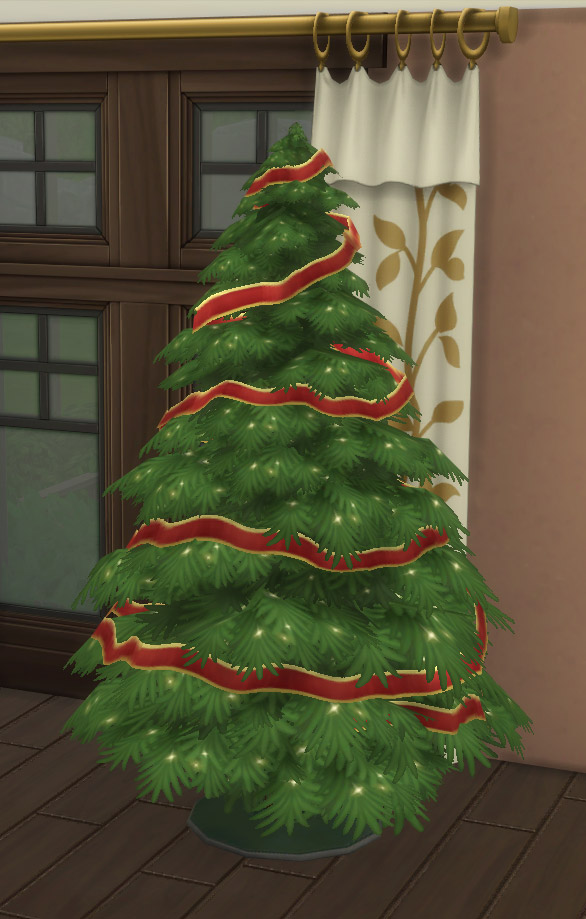 Black with Gold Fleur de Lis
Blue & Silver
Brown Burlap Ribbon
Green & Gold
Gold & Silver
Pink & Gold
Purple & Gold
Red & Gold
Ornaments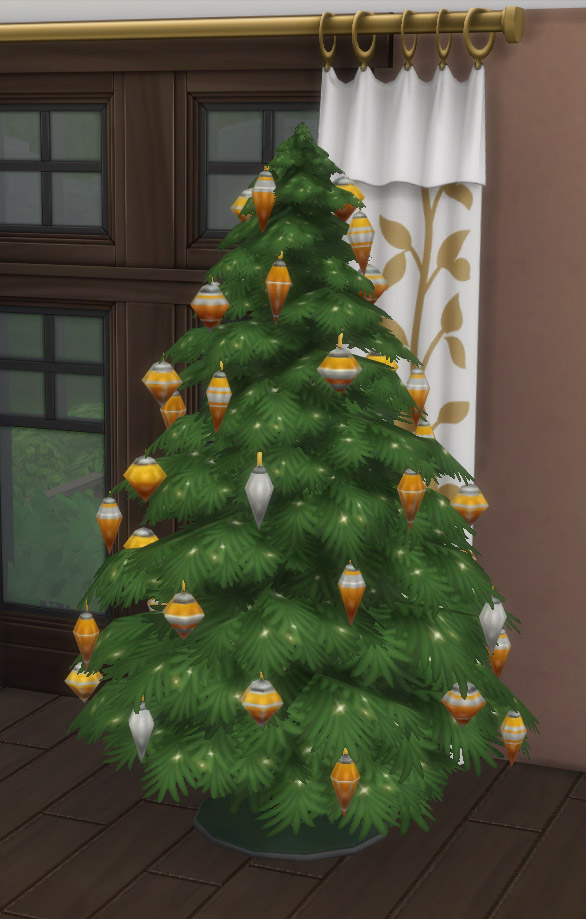 Black, Red & Gold
Blue & Silver
Green & Gold
Gold & Silver
Pink & Gold
Purple & Gold
Red & Gold
Rustic Black & Red Check
Light Color
Clear
Green & White
Multi
Red & White
Tree Skirt
Black with Gold Brocade
Blue with Silver Trim
Blue with Silver Snowflakes
Green with Gold Trim
Gold with Silver Brocade
Pink with Gold Brocade
Purple with Gold Trim
Purple with Gold Brocade
Red with Silver Snowflakes
Rustic Black and Red Check
Tree Topper
Angel
Gold Star
Ribbon in matching colors
Rustic Santa
Silver Star
Neighborhoods and Community Lots
New Weather type - Sandstorms and Dust Devils
I hope lots can be moved as long as they snap to roads
I'd love to snap another lot to the edge of an existing lot as long as there is room for things like farms to attach fields of crops or a manor house with a huge garden.
I would love to have sub-categories of lots to help identify what kind of lot it is or influence its patrons in the Lot Panel. For example Retail-Florist Shop vs Retail Candy Shop vs Retail - Grocery Store. Or Restaurant-Indian vs Restaurant-German. Bar-Night Club vs Bar-Pool Hall. I'd like to be able to set it's name, address, Lot Description, Lot Traits, Hours and Days of Operation, Owners Name, and patron age groups.
I want service lots too like Tattoo parlors and Hair Salons as well as Spas and Restaurants. But I want them to be ownable, open, and to be able to set employees either by hire or from ones own family
If you have a Get Famous/Superstar style Pack - I think you should definitely have a big world for it. I would make it a combination of the Hollywood Hills for a few famous Celebrities to live and a section of town that looks like Superstar's Studio Town with soundstages set up for different productions like a Western, a Sci-fi movie and a Soap Opera. A spot for modeling shoots. A concert stage. Then I'd add at least one really cool looking Night Club, A Movie Theatre thats like the Chinese Theatre and the walk of fame, A Hollywood Forever Cemetery facsimile. A fancy Beach, High End retail shopping center with spots to fit one clothing, perfumer and a jewelry store. Then add an (or leave room for) an upscale restaurant and a Spa. Bring back Lana the Production Coordinator. Limit Paparazzi to this neighborhood because they are annoying.
I'd really like an NPC tour guide and Curator for Museums
I want bar bouncers in this game too. They were fabulous in Sims 3
It would be so great if there are cars there are the parking lots or spaces for them in the community. I'd really love a Lover's Lane spot
Car Wash Rabbit Hole would be fabulous and teenagers can work there as a part time job
I'd also like a mechanic shop because if we have cars we should have car trouble
List of Non-Rabbit Hole Businesses I'd like to be able to have in Sims 5
Bakery




Bars & Night Clubs

Café
Car Lot
Chocolatier & Candy Shop


Clothing Store (Retail)
Day Spa
Dentist
Detective Agency (Private)


Furniture Store
Grocery Store


Groomers
Hair Salon
Ice Cream Parlor

Florist Shop (Retail)

Jewelers (Retail)


Magic Shop (Retail)

Mechanic Shop
Perfumery (Retail)
Pet Store


Restaurant - I'd like as I stated before to have to be able to state the kind of Restaurant it is in a drop down so it would read Restaurant - German etc.
Tattoo Shop
Veterinarian Clinic
List of Mechanic & Body Shop services
Add Freon to Air Conditioner
Add LED fog lights
Change the Brakes
Change a burnt out Headlight
Change the Oil
Change the Paint
Change Tires
Fix a Dent
Fix a Flat
Get a Vehicle Inspection
Install a Security system
Repair the Engine
Repair the Transmission
Game Play
Funerals - with life we have death. Why has this always been so glossed over
Consequences - Do bad stuff or dumb stuff and you should have some sort of payback for choices. There doesn't feel like there is any permanence
I would like to keep the ease of being able to add music to the game and in fact I would love to be able to make my own radio stations. So if I want to make my own Cajun restaurant I can have Zydeco on the radio if not otherwise added by the creators.
Basic Banking, Wills
Farming EP with a lovely rural setting where we can really concentrate on horses, cows, chickens, pigs and all the lovely new harvestables.
Spelunking - I think it would be a great sport to add
Perfume making and essential oils
The Grim Reaper should have his pranks and small details from past games back. I LOVE that Bonehilda has a crush on him. I think he'd play chess in the past which if I remember correctly is an Ingmar Bergman reference from the movie the 7th Seal.
If you do the clubs again please do your best to make sure that when you introduce activities in later packs that you update the offering in the clubs (Icons, activities the club partakes in, etc.) as would make sense. For example let's say you introduce clubs in the second pack and in the fifth pack you introduce sewing. As a part of the sewing skill you also update the potential icons for clubs to include a sewing machine, a Needle and thread, a dress & pant, and a quilt club icons. You also add sewing and gossiping (because thats what sewing circles do) as group activities.
Spooky day should be a great day for Tricks as well as Treats. Flaming Poo, toilette papering and eggs are most traditional
Ice Sculpture judging and Sand sculpture events for beaches.
I'd love it if burglars and detectives step up their game with heists, mysteries, security systems (laser etc)
I'd like it if we could pick between the Western Zodiac or the Eastern Lunar Zodiac
It would be interesting to be able to combine the products of different skills to make something new. For example candle making + perfume making gets us an aromatherapy candle. Candle + Alchemy potion = Enchanted candle. Herbal preparation + sewing = gris gris bag or Voodoo doll or even a sleep mask. Wood carving + Witch's spell = enchanted broom. Wood carving + Gem Cutting + gathered magical object = Wand. Wood carving + mechanical parts and skill = Grandfather clock

The water effects from Sims 4 they were great I hope we get swans as well as ducks.
Should be able to hire a Photographer for events especially things like a family reunion where you can request the photographer to take certain types of group pictures for example, Wedding Party, Family Photo where you select all who should be in the photo and the family groups up, Couples, Proud Parents (Parents and Baby), and it should work the same for pets too.
Amusement Park wishes - Carnival Music for the Amusement Park, The Carousel of course, Ferris Wheel, Midway Games (like the Strong man game, Whack a mole, the target shooting game, ring toss, ski ball), Wandering clowns who juggle, The buildable Rollercoaster, Carnival Food booth, Dunk Tanks, Water Park build items. House of mirrors, Skating Rink, Tunnel of love, Petting zoo, Bumper cars, Fortune Teller Caravan or the Fortune Teller booth. I'd like this to be a single giant lot where Sims come to be entertained.

List of Great Potential Club Icons
Ace of Spades
All Seeing Eye
Arcade Machine
Bag of Popcorn
Baked Pie with Steam Rising
Barbell
Baseball Bat & baseball
Binoculars
Bird - Robin Red Breast or a Blue Jay
Bouquet of Flowers
Bowling Ball & Pin
Butterfly - Monarch
Butterfly Net
Camping Tent
Cat wearing a prize medal
Chessboard
Chess Piece
Comedy & Tragedy Masks
Court Jester
Dart & Dart Board
Dog wearing a prize medal
Dress & Pants
Garden Maze
Guitar
Hiking Boots
Horse Jumping an Obstacle
Horseshoe
Ice Skates
Jack O' Lantern
Knitting Needles & Ball of Yard
Magnifying Glass
Marotte
Maypole
Meditating Sim
Metal Detector
Needle & Thread
Oak leaf
Person Climbing a Rock Face
Person Swimming
Piano Keys
Polar Bear
Pool Table, Cue Stick and Billiard Balls
Queen of Hearts
Quilt
Rake & Leaf pile
Roasted Turkey
Robot
Royal Flush Hand
Sewing Machine
Sim wearing a facial mask with cucumbers
Skis
Snowboard
Swordfish
Telescope
Theatre stage
Tree
Two people at podiums - Debate
Two Sims about to spar in martial arts
Whisk & Bowl
Witches Cauldron
Violin
Yoga Pose
Zen Rock Garden