Origin:
The Sims Freeplay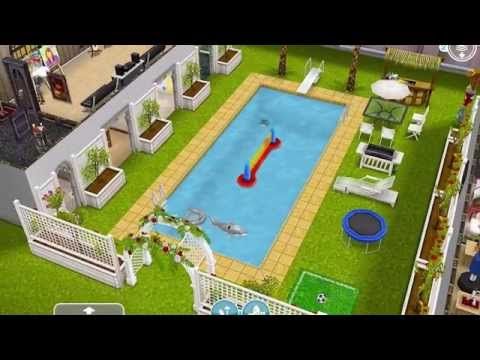 Gameplay:
Sims must clean periodically the swimming pool to avoid bad moodlets and other problems. The levels of water dirt are:
-
Level 1: Clear water:
normal water, fresh and safe
-
Level 2: Cloudy water:
first level of dirty, it can gave a bad moodlet to the Sims.
-
Level 3: Swamp water:
worst level of water dirty, Sims will refuse to swim.
Also, Sims must raid with another "guest" to the swimming pool like leaves (if
Seasons
is installed), frogs and bugs. Players can see the leaves floating and hear frogs nearby the swimming pool.
To clean the water, Sims haves some options to solve this problem:
-
Leaf skimmer:
based in
Get Together
reward item, Sims must have this item placed in their lots or inside their inventories to clean the water from leaves and critters (
Seasons
required for leaves).
-
Chlorine dispenser:
a floating buoy that dispenses chlorine. It must be recharged periodically with chlorine pills. This item will slow the water quality drop. If Sims places more than 1 dispenser, they will have a bad moodlet due the chlorine level in the water.
-
Filter:
a electric filter that can be attatched in the border of the swimming pool. It's efficient against all water dirt causes but it's expensive and can consume more electricity. It can be upgraded with a noise suppressor and a built-in solar panel (
Eco Lifestyle
required). Sims can program the time of the water filter to prevent high bills. The time will depend of the tiles of the swimming pool: 1 hour for each 4 tiles of swimming pool.