Hi, I've finally been able to attach pictures and videos here (I think?) So I wanted to share my video series "Rags to Riches/Nifty Knitting" using the Eco Lifestyle pack. We are starting off in Evergreen Harbor on an empty lot and no money. The goal is to get rich (100K) by knitting and listing on Plopsy. We cannot accept inheritances or make any money other than digging through the dumpster and selling our knitted things on Plopsy. We cannot sell what we find in the dump or what we plant. If we can't use it ourselves we must recycle it. Since I'm playing with Eco Lifestyle I think it would be good to become green as well.
Here is the first video:
Intro:
Join me in my new Rags to Riches series as we follow Kendra Knittly. Kendra has found herself homeless with no money and has a dream to rise above her circumstances and make a fabulous life for herself by knitting her way to the top. Although the road ahead is going to be hard, digging through dumpsters, finding enough food to eat (even if it may have questionable origins) and trying to make enough money to survive until she can get her Plopsy Store off the ground.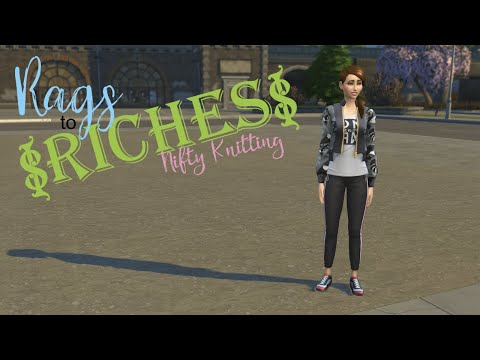 Hope you enjoy it!