Raise Farm Animals
you can raise, breed and care for various types of livestock. Buy a barn or coop in buy mode and purchase livestock.
These farm animals create produce (like milk) that can be stored in your
inventory
and used in food or simply sold.
Chickens (Produce eggs)
Cows (milk)
Sheep (wool)
Horses? (You can ride on them)
Nectar Making
Use the fruits you've grown at your farm to produce various types of nectar that can make your Sim flirty (or uncomfortable if the nectar quality is bad and dazed if you drank too much nectar)
Nectar includes the Nectar Making skill and is produced by the Nectar Maker. Nectar bottles age over time and become more valuable!
Butter Churn
Use milk that's produced by cows can be used at the butter churn to produce homemade butter (& maybe cheese)!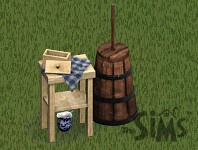 New Harvestables
Sims 4: Off The Land introduces new harvestables to grow on your farm that haven't been in the game. These include...
Oranges (seriously, why are there no oranges?), peaches, plums (fruits)
Eggplant, lettuce, cucumber, turnips, parsnip, cauliflower (veggies)
Corn stalk, wheat
Canning Station
A new
counter-top
Electric Canning Pot to can your food and harvestables so that you have something to eat in winter!
Turn vegetables into pickles and fruits into jam/jelly. (There's a pickled or jam/jelly version of every harvestable in the game) Canning might also work at a regular stove.
Sewing machine & Sewing skill
The wool produced by sheep can be used to sew your own clothes with the sewing machine!
Use a spinning wheel to turn wool into yarn. This yarn can be used to sew clothes.
Off The Grid Lot trait
-Generator to produce Electricity. Can be broken and there will be no electricity on lot until you repair it.Homeschooling
Kids & teens can be homeschooled by their parents to have more time to help on the farm. The next school might be miles away.
New World: Redwood Reservoir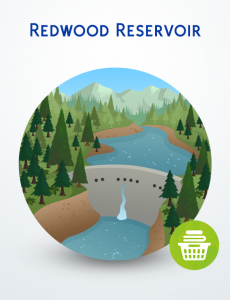 (Made by HazzaPlumbob)
A quaint country town with a big dam in the distance. The town is out of sight of the main highway running over the dam, concealed by a dense coverage of towering redwood trees.
3-4 Neighborhoods:
A rustic farm neighborhood with wide fields and family farms (Sunny Acres)
High-tech, modern, solar-powered farm neighborhood with eco-conscious farmers (High-tech Farms)
Off the Grid community with dirt roads and self-sufficient households right at the foot of the dam. Most people here have the Eco-friendly trait.
Quaint town center where farmers sell their produce (Farmer's market)
Farmer's Market
There is a weekly farmer's market in the world once every wednesday where you can buy fresh produce such as eggs, milk, wool, canned food, nectar bottles, special fertilizer etc. or sell your own products.
You can also participate in the farm animal contest and earn badges based on health and egg or milk quality! Show off your riding skill at the mechanical bull rodeo to win a price!