The Sims 4: Off The Land Expansion Pack
HORSES
Create your own horse in CAP or tame wild horses by feeding them carrots in the new world Redwood Reservoir.
You can ride through the neighborhood on a horseback or train them to run faster.
When you're lucky you might even encounter a unicorn at night, but there is a special harvestable that you have to feed them with in order to become tame.
Riding skill: learn how to ride or your Sim might fall off the horse.
Sims can also show their riding skill at the mechanical bull rodeo ride that appears at the farmer's market or local watering hole.
NEW HARVESTABLES & NECTAR MAKING
There are plenty of new harvestables, some examples include Oranges, Peaches, Corn, Lettuce, Parsnips, Turnips or even Plums.
You also get to finally do something with the harvestables! Use the Nectar Maker and Nectar Rack to create delicious (or not so delicious) Nectar, depending on your Nectar Making skill.
Just don't fart while making Nectar or doing it with low hygiene!
Nectar becomes more valuable and delicious when storing in the Nectar rack for a longer time. You can also preserve vegetables or create jam with the Canning Station. If Sims drink too much nectar, they get dazed!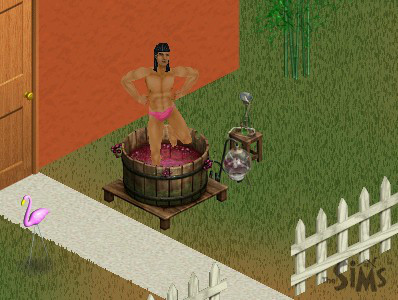 LIVING OFF THE LAND
Besides country-ish clothing, your Sims can live in the new world of Sunlight Acres. All lots in this world are "Off the Grid", meaning you need Generators and Water Pumps to take a shower or watch TV, but on the good side you don't have to pay bills!
Use alternative objects that don't use energy like an outhouse or firewood stove instead!