I have been working on this one for awhile and I have 2 versions: the more difficult 4x4 version and the slightly easier 5x5 version, the 5x5 version is better suited if you have only the base game or very few EPs, though the 4x4 is very doable with only the base game.
The object to this challenge is to build yourself a dream house 4x4 block by 4x4 block, each block will cost your sim $10,000.
To start make a sim of your choosing in CAS, either gender, whatever traits you like.
Buy an empty lot, the bigger the better as you will not be able to move for the duration of the challenge.
Start the game by building yourself a 4x4 block "house" (it's gonna be cramped!) it must include:
2 counters
A sink (either in the "kitchen" or "bathroom")
A microwave
A table
A chair
A single bed
A toilet
A shower
A bookcase
A computer if you have the funds
2 or more lights
2 or more windows
A door
A porch if you like any size within reason (I typically do 4x3) BUT the porch is NOT considered part of the house and may not have skilling objects or household objects placed on it. Only decorative objects like plants or a lounge chair as an extra spot to vege out but you must have all household items listed above IN the house).
Siding
Paint
Roof
Carpeting or other flooring of your choice
A small fenced in 6x6 garden (you may buy seeds at the grocery but only 1 of a seed not 15 apple seeds for example).
**I added everything up (including the 4x4 house with a 4x3 porch, and even with fairly expensive furnishings the total still came to less than the $16,000 that most Sims start with, you may kaching once if you wind up under the starting money of $500.00 but then must get down to $500.00.
Please note: if you have Into The Future do yourself a favor and get the All In One Bathroom, it is a big space saver, also look into a loft bed and put a small table and chair under it for your eating or computing purposes, another big space saver.
Buy your sim whatever extras and/or decorations you can squish in. Keep in mind your sims ability to get to everything without a foot stomping hissy fit. Buy as much as you want until you get close to $500.00 as you can, landscaping is good but keep in mind where you want to expand your house so you don't have to wreck all your pretty landscaping after you earn your expansion block(s), a bike is also a good idea. Then set family funds to $500.00.
Your sim may get a job, or work from home to make money though your options for working from home a pretty limited, writing, hacking are good because you should have a computer. Painting and sculpting are off the menu until you have room in your house for an easel or sculpting station. You can always collect, there is good money to be made collecting flowers, rocks, gems, bugs/butterflies, seeds, you can also dumpster dive and sell the items you find. You can garden and sell the produce. When you get your funds up to $10,000 you may add on a 4x4 block to your house, make every attempt to spend as close to $9,500 on the furnishing the new bigger house (save out $500.00 for bills) you can buy whatever you like for the house or to make your sims life easier (a car perhaps). Now you are set to start earning another $10,000 for the next expansion and so on until you have a house you can live in comfortably, my ultimate goal is usually 10 expansions so nine 4x4 blocks plus the original 4x4 block. It is one of my favorite challenges as it is really tough in the beginning because you are so cramped.
A few things to note: you may get married but when your mate moves in he/she must be unemployed or the challenge would be too easy, if they bring any money with them it must be deleted. They can do whatever you like but may not make any money, when my sim gets married in this challenge I tend to skill the heck out of the spouse, have then read all the skill books and max out skills, costs nothing if they read at the library and they become a jack of all trades.
**EDIT for boyfriend/girlfriend and marriage: you may either follow the rules above and just have an unemployed, unable to make money mate, Or you may have them work, collect, create, garden or whatever to make money BUT your additional 4x4s will cost you $20,000 as you will have 2 Sims bringing in the cash. Children can not make any money (hang the paintings they paint, or inventory them), as they reach teen if they get a part time job add another $5,000 to the 4x4 cost. This is only for the first 2 children, any extra kids can be money making machines
. When the kids reach YA the $10,000 applies to them if they stay in the house.
**EDIT: if you want to add in a roommate, fiancee, husand/wife, or other person to the house you must get rid of any money they bring to the household. You can do this by family funds or buy as many objects you need to get to the total you need to get rid of then object delete the objects.
**Money making ideas that are frowned upon as it is way too easy to make a bundle: that crazy 8 ball thingie (will look up the real name).
Also adding that you do not have to lay your 4x4s all on one story, they can be a second story of the house if you like, stairs will have to be inside the house though.
For those without many EPs (mainly Into The Future) I reccomend trying out a 5x5 challenge first, it makes less of an issue of not having access to a loft bed and an all in one bathroom, though I have done the 4x4 using strictly only base game items.
My goal is always 10 4x4s (the original 4x4 plus 9 add ons). You can make up your own goal if you want, make it fun for You!
Have Fun and be sure and let me know if you have any suggestions or criticisms (I can take it....
).
Enjoy! Becky
Picture of first stage 4x4 house: Outside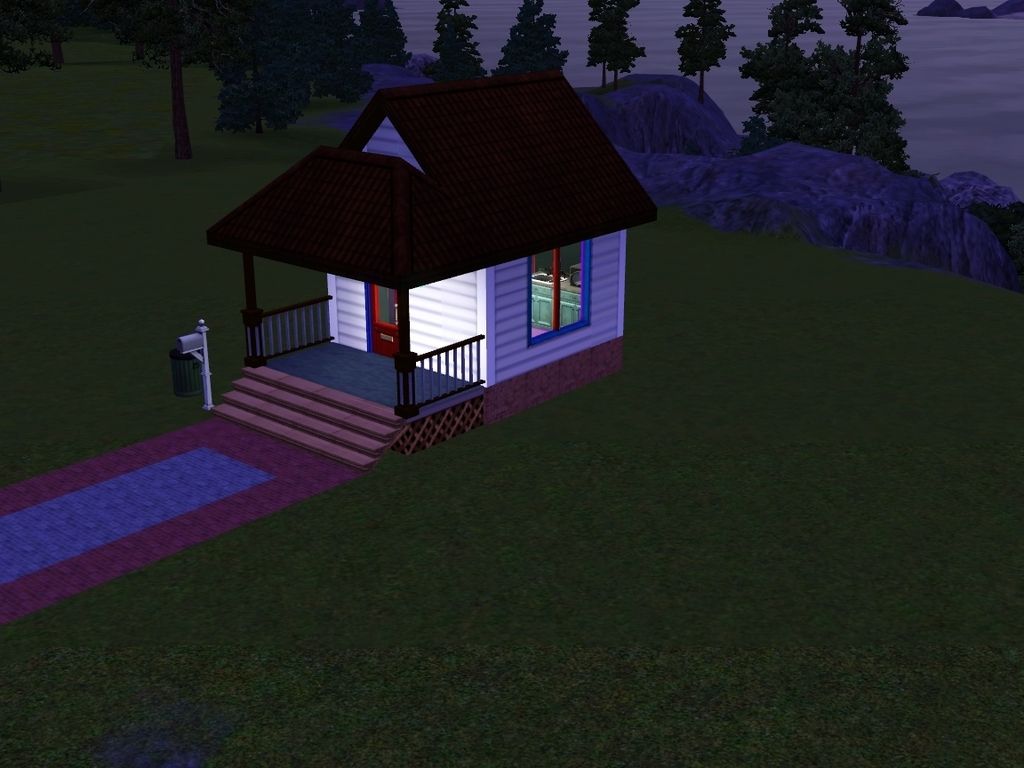 Inside: