→
Portuguese
←
Information on the Animals Abound Sets and getting some FREE content
For those who are new to Daily Deal stalking and the concept of cascades, there is a particular customer advantage with the Animals Abound set. This is how it works: Buy a single item worth about 25 SimPoints from the Animals Abound Playground - Outdoor Fun set to initiate the CYS (Complete Your Set) discount. Then, you can buy the Animals Abound Playground set for roughly 375 SimPoints. Now go download the Tip Top Toddler Collection & the Kids 2010 sets for free. This is a benefit unique to this set group, so all cascades do not work like this, but this is something that everyone should take advantage of! If you cannot afford to buy this first set, then put a few of the items on your wishlist.
This will NOT work in your favor if you are gifted the playground set.
You can be given some items from the playground set but you must finish off the set with CYS, even if it is free for you.
Source:
LadybugLeslie's Cascade Thread
For anyone who wants to give it a go, add items from the Animals Abound Playground - Outdoor Fun set to your wishlist, and post on this thread that you are going to try it. This will let me and other fellow simmers know, so we can help you by bringing the set price down for you to buy.
✿ Please post whether or not you were successful in getting this fabulous customer advantage - I would love to know. ✿
✿ If you have any questions or need help, don't hesitate to ask! ✿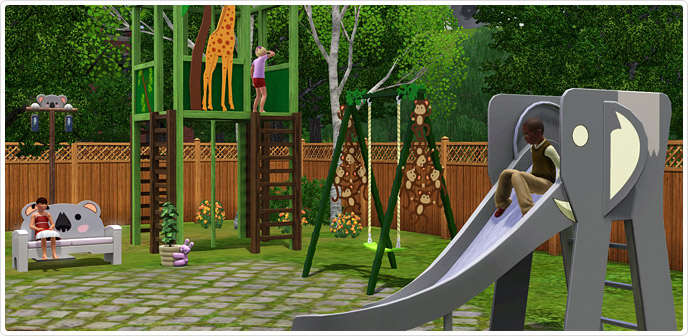 Simmers who have successfully completed the Animals Abound Cascade:
TS3 Username: XxEquestrian95xX
I became an
"
own the store
"
member on February 27, 2016. Thank you so much, everyone!
---
Do you enjoy saving SimPoints?
If so, check out the following threads for more info
:
Free Kids Items - Animals Abound Cascade
➝
Cascades
➝
Daily Deals
(
DD Spreadsheet
)