As a librarian, two of my greatest loves in life are reading stories and archiving information into a meaningful and easy-to-use fashion. As a Simmer, I love reading (and creating!) stories that follow Sim creations going about their lives within the various worlds of the
Sims
games. But it can be a bit overwhelming; there are a multitude of great sites out there dedicated to storytelling using
Sims
games, but I haven't found any place that acts as a proper hub to bring these sites together, and make it easy to navigate between them and bring more exposure to budding authors.
That is why I have founded the
Stories and Legacies Index
, a virtual library located on Wordpress which aims to catalogue every user-submitted website focused around storytelling using
any
of
The Sims
games. Currently it has over 350 links in its main listing, and another 250 links in its archive listing.
What can you do at the Stories and Legacies Index?
Get an organized, alphabetical listing of Sim stories and Let's Plays;
Find a listing of completed stories, short stories, and collaborative projects;
Use the Subject Search to get a listing of stories by author name, game version, challenge, genre, or subject;
Check the References section for a great selection of threads around these forums for the Simlit enthusiast;
Feeling artistic? Feel free to submit link-back banners or badges or banner art for the rotating banner art gallery!
Why should you add your story to the The Stories and Legacies Index
?
Your story will be listed in the largest single directory of Simlit, which attracts readers of Simlit for its ease of use to discover new reading material;
Attention will be brought to any new stories, completed stories, or other writing milestones you reach on the Stories and Legacies Index nightly newsfeed and Stories and Legacies Index Gateway threads on the Sims forum;
All stories or video Let's Plays, regardless of Sims game used or style/format, are welcome! It doesn't matter if you are a brand-new author or a seasoned writer, and it only takes a few minutes to fill out the submission form to submit your work!

The Stories and Legacies Index - Discover links to over 600 Sim stories, get updates and news on registered stories, and submit your own Sim stories to the listing!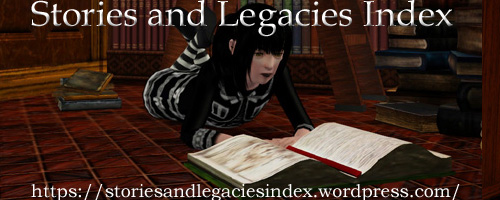 Have a
Sim
story site? Please submit your link to the
Stories and Legacies Index
!
Check out my Simlit at
Sim Stories: Hijinks from the World of Sims 3
!
My Simlit Discussion/Updates
|
The Fringe
|
Short Story Challenges