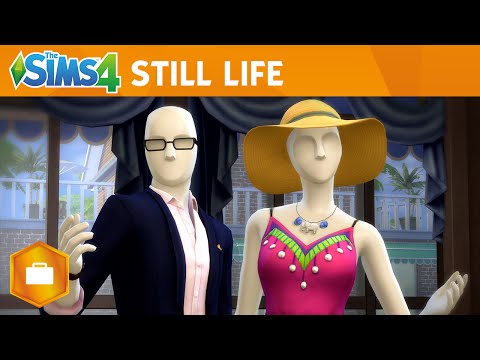 https://www.youtube.com/watch?v=Adxg61_MLyI
@brsy
asked us a question today on the story behind our "Still Life" video. We thought that the story was worth sharing with everyone on the Forums.
Todd Stallkamp is our Creative Director in Plumbob Pictures, the people who make all our videos for The Sims 4. Take it away Todd…
***
Whenever I see a mannequins, I hear them sing.
Kidding.
"Still Life" really began with a panicked 3:00AM email to a colleague - wherein I tried to get the project killed.
We'd been spinning our wheels trying to find a playful concept around our new Retail Systems, deadlines were looming, and I had nothing.
Inspiration struck in the morning. Thank you inspiration. And I began singing - not a lie - in the shower. I had the first few lines in my head by the time I got in to the studio.
Mannequins not having mouths solved our lip-synch problem…. But how do we bring these two star-crossed lovers together? They can't walk!
That led to the "Duh, go into build mode (A hand came down from heaven)!" moment. I love me a song about game mechanics.
The rest of the lyrics came together fast – and we brought in one of our favorite "The Sims 4" songwriters & composers, Raney Shockne.
He and I spent a few days singing at one another over the phone. People stared. But the talent that Raney is – he had nailed it.
"Still Life" found its music.
While Raney hunted for singers, we began building our "sets" and capturing footage.
Stylistically, we wanted all the shots to be rather flat with parallel lines of actions (lots of Sims crossing from one edge frame to another). We were hoping for the trailer to feel like something you might see on a stage.
Aesthetically, we restricted our palette to really make our mannequin's clothing pop. They are stark little creatures. We gave one a hat and one a pair glasses to give them a bit of character. With the ability to change their poses, I think they really came to life.
In just over a week, the song came together, the visuals came together, and we polished it up by adding light graphics (that heart burst) and sound design (you'll hear some ambient noise in the beginning and end). I think we ended up with something special.
We are super stoked that we got to share this story, and we can't wait to see what stories you'll find in
The Sims 4 Get to Work
.
***
Thank you for sharing that story with us Todd. Can't wait to see the next video you and your team at Plumbob Pictures have been working on.