I tried doing this last night but something weird happened, so, if there's a double posting of this I apologize in advance.
The Land Rich Cash Poor challenge was my favorite challenge for sims2, and it doesn't translate well for sims3. (At least not in my opinion.) I could only find the rules for it on one site, and it doesn't say who originally came up with it. Edit: The original creator is TreyNutz.
Rules
Here's Andrea. Why does this trendy chic want to leave the city to come rough it in the wilderness? Andrea has never been one to pass up an adventure. She's an Aquarius that likes guys with a cool look, so she's hoping she'll be paired up with a guy with custom hair and makeup. If anything, he better not be a blonde. In case you're wondering she's a pleasure sim.
Dirk admits that he's not big on the Great Outdoors, but he loves learning and experiencing new things. He a serious Scorpio knowledge sim. His idea of the perfect woman has beautiful blonde hair and wears perfume. The one thing he can't stand is a girl that does 'weird' things with her look.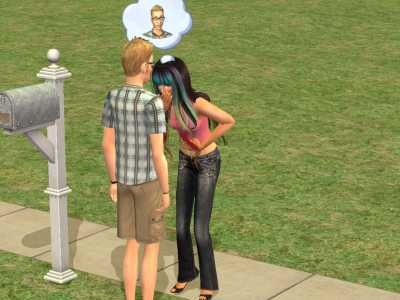 Needless to say these two take one look at each other and are not pleased.