MONSTER HIGH
Tech: all EP's, stuff packs and a few store objects will include Pets EP
Map Size: Medium
File size: ?
Number of lots: 60-80
Not populated but will have a seperate saved game file to download, will contain the Monster High Sims
Theme: Cartoon type horror, suitable for younger players
Release date: ?
Complete level 52%
"In the coffin" Project
LATEST PICTURES
Updated Pictures 28th October 2011
Inside Monster High
Blue Lagoon
A Park to Die for, still in development
Cat Park
Dog Park
The Cursed Vampire Castle built above and below the mountain, hidden nightclub inside the castle
Winery
Updated Town
Monster high contains a new moodlet Icon, this will replace the Vista Moodlet, the sims of this world get that vista reward for Creepicfic lots. (Please be aware the new moodlet is only for this world and will not effect any other world or blow up your game)
Very little is done in the world, no texture, just the general layout of the world, I hope it will be "Freaky Fabulous" by the time I've finished, but only time will tell.
I will be designing most of the lots myself, I will try to stick to the style of the cartoon characters, so the world will contain 1 lot for each of the Fear squad. Frankie Stein (15 days old, Frankie Stein is new to Monster High. She is the daughter of Dr. Frankeinstein's monster and his bride. Her pet is a puppy named Watzit. ) lot will be released for halloween.
So Ghoulfriends look out for more updates later in the month.
If you have no idea on what I'm talking about but still curious on how a neighborhood full of vampires, werewolf, ghost and simbots will work in a neighborhood then you can watch the 1st cartoon here: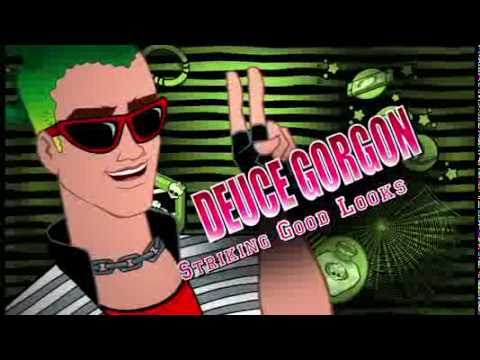 A full charater list of the Ghouls that will populate the saved game can be found here:-
This is all the slang in Monster High slang that has been translated:
Beast=best
Biteology=biology
Casketball=basketball
Clawculus=calculus
Creepicfic=cool
Creepateria=cafeteria
Curdy= cute+nerdy (we wouldn't have this saying if it wasn't for Melody's older [preppy] sister)
Egore=email
fangtastic=fantastic
Fearbook=yearbook
Fear squad=cheer squad
Fierce and Flawless= Frankie's least favorite makeup line
Floppies=flip-flops
Freaky Fabulous=totally fabulous
Ghastly=great
Ghoulfriends=girlfriends
In the coffin= top secrete
Killer Style=great style
Monsteristas=monster fashionistas
Monstuerizer=moisturizer
Normies=non-monsters (humans)
Oh My Goth=Oh my gosh
RADs= Regular Attribute Dodgers
Scary Cute=super cute
The maul=mall
Uuuuuhhhhh=uuuuuhhhhh
Voltage=awesome
So better get back to my In the coffin project.
Many thanks, feedback welcome