Hello guys,
All my lots are Third Party CC free. I like to build community lots but lately i have been trying my hand at houses and households. I tend to build weirder lots then most and i started using CFE a while back and I was terrible at it. But i am improving now. I am going to be clearing out my studio and reworking some of the older lots or just getting rid of them because some of them make me blush with embarrassment tbh.LOL. Anyways decided to finally make a creations thread. I hope you like it:)
NEWEST LOTS:
Newest lot, I have made this lot for a class i am going to teaching tomorrow. A class on CFE. Its another one of my wacky lots, I was built for the sole purpose to teach reverse arches. I hope you like it.
The Airship Titanic, i named it Titanic cause it turned out to be really big an looked Titanic, not after the illfated ship of the same name that sank April 14, 1916. This is just a really large wooden Airship, currently its a park. You can make it into anything you like. It has three stories of space to deal with. Basically its a coloured shell for anyone to have fun with. If you want to learn how to make your own ship, please join me and zoo for the Zoo U course in CFE tomorrow night.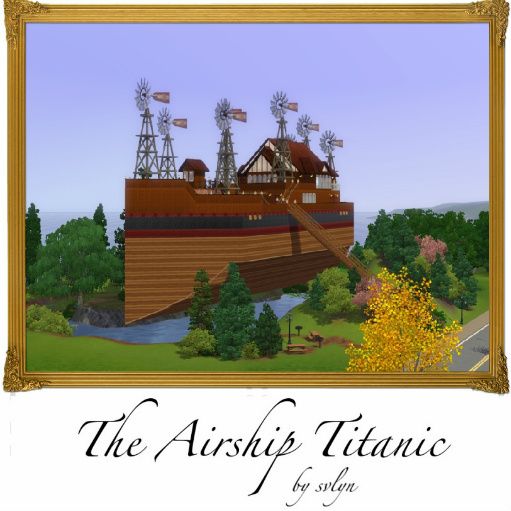 Slideshow
http://s18.photobucket.com/albums/b101/Svlyn/The Airshp Titanic/?albumview=slideshow
DOWNLOAD LINK
Thank you for looking.
WARNING IF YOU DOWNLOADED THIS LOT REMOVE IT FROM YOUR GAME IT DOES NOT SIMPORT AT ALL AND MAY CAUSE IN GAME ISSUES. DANGEROUS LOT!!!!

My appologies for any trouble or inconvience this may have caused you if you added this to your game.