Well I had this issue since forever. I couldn't play around CAW for more than 5 mins. I also had a similar problem with the game. The game would exit to desktop with no warning at all. The only diff is that CAW was givning me an error about corrupted memory or something. The workaround for the game itself is everywere from here to MTS, so i'm not going to get into details for that.
Well since the CAW was giving me a memory error , i figured to try the same thing that fixes the game. And gues what... It works like a charm. CAW apparently , as the game did, cannot recognise my 8Gigs of ram.... Step by step now
1. Download and install CFF Explorer:
2. Go to : C:\Program Files (x86)\Electronic Arts\The Sims 3 Create a World Tool and find the CAW.exe file and copy it somewere safe .This is your backup.
3.Run CFF explorer as administrator(right click on it, don't double click)
4.File>Open and navigate to the adress above and select the CAW.exe file
5.Click on File Header at the left, find characteristics at the right and click the "Click here" blue button.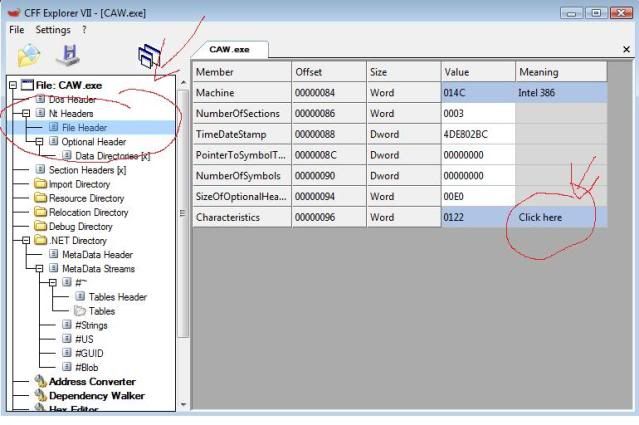 6.Tick "App can handle >2GB address space
7.Ok that and save by clicking the disk icon or going to FILE >> SAVE
8.Overwrite the file when it asks you to.
DONE!Now your CAW will not crash any more
Don't forget that you need to do this everytime you download CAW after a patch of EP/SP installation
Many thanks to MTS for the original tutorial for the same game issue
UPDATE:
CAW.exe file can be found here:
C:\Program Files (x86)\Electronic Arts\The Sims 3 Create A World Tool
IMPORTANT NOTE: Be aware that after pets and pets patch. CAW is crashing more often, especially when painting, even if you have used this fix. At least with the fix it will not crash ALL the time. Just remeber to save regularly when painting.