Mother and Daughter Modeling Competition
This week.. well.. I'm so proud of all of you! I can really see that you all are improving your editingskills and photoskills. I can see you get more creative and maybe a bit more risky too? At least I think that's a good thing, and I really hope to see all of you improve a bit more!
This week three of you had a score of 29 points, and it won't be a elimination, because of lovints' drop-out, because of the HELS-package. Shame on EA, AGAIN, for the hundred time :XD: And because one of you who is in the bottom of the 29-points-people, it doesn't mean *he did have the worst picture. The 29-points-people are arranged randomly, because I really didn't care where I did put you guys, since you have the same score. Lol :oops:
___________________________________
Assignment five results
(in order from highest to lowest):
katrina427 with Macey and Ray. Musicgenre: Rap.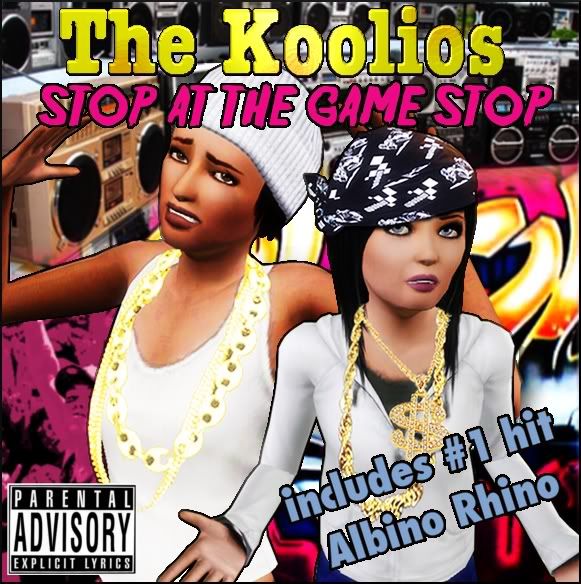 Model's appearance: 9/10
Creativity: 10/10
Editing: 3/5
Overall appeal: 8/10
Total: 30/35
Comment: Wooah! This cover was freakin' good, I have to say. I love that you actually made bling's for them, and I got to smile because of their faces. I really did like the background you chose for this cover, a lot of CDplayer-thingies and some graffiti. I also liked the black outline at Macey and Ray, and the little logo in the bottom-left corner
With that being said, I have to say that I wasn't that keen on the black hat. I have no idea why, but the pattern seemed just weird.. But I guess that just has something with my taste to do :XD: And, the letters.. wooahhh, they were so big, and I was mostly focused on the letters rather than Macey and Ray, who's actually the ones selling their album :shock: Let's hope the buyers like letters and not model's. Lol!
lehdkat with Aiofe and Grainne. Musicgenre: Indie/Alternative
Model's appearance: 10/10
Creativity: 9/10
Editing: 3/5
Overall appeal: 7/10
Total: 29/35
Comment: I think your picture was very cute and the album very.. green? Haha. Although green is a nice colour - yes, it is - I didn't like that much green on a cover. I just realized now that it really isn't that much green, but green is the only thing that I actually remember. The cover really didn't scream indie or alternative to me either, and I'm not really sure about the guitar in one of the pictures. I like the three other pictures, tho, they're beautiful and your model's are looking their best
Syrionia with Blair and Morven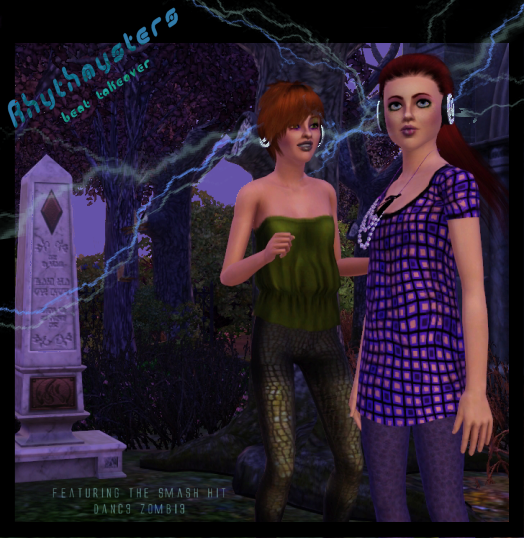 Model's appearance: 9/10
Creativity: 8/10
Editing: 4/5
Overall appeal: 8/10
Total: 29/35
Comment: Another great picture, even my boyfriend thought so. As I said I'm going to go with what my boyfriend said about your picture, since I don't have any idea at all what Trance/Techno/Electronica-albums look like.
Anyway, my boyfriend told me that your album was pretty cool. It was these lightningsbolts-thingies on it, it did have those ear-things, which I can't remember the name of at the moment :roll: and he said that your album is mostly electronica, which is fine, since the genre was one of the genres you could choose from.
In my opinion the picture was a biiit dark, it may be my screen, but I think my screen is pretty light, so I guess your picture is a bit dark :XD: lol. I really like the text in your photo, though, I think it doesn't overwrite your model's at all, so that's a good thing! I think you model's had "okay" clothes, I know it could've been better, but it may be better when the picture is lighter, I have no idea.. lol.
kelseyjeanne98 with Kali and Harper
Model's appearance: 8/10
Creativity: 8/10
Editing: 4/5
Overall appeal: 9/10
Total: 29/35
Comment: Honestly... I loved this pic, I have to say! I loved everything from the text to the pink outfits. I think I loved this pic so much because it's so much pink in it, and I love my pink :roll: Anyway, I think you should've edited the piano in another colour, maybe pink that too? I know it may be a bit hard if you're not using the right program to do a bit more editing. I also wasn't that keen on the background you chose, although it makes Kali and Harper stand out more, but I think you should've done a bit more "risky" background (:
Vav2009 with Melody and Harmony
Model's appearance: 8/10
Creativity: 7/10
Editing: 4/5
Overall appeal: 8/10
Total: 27/35
Comment: This one was so sweet, and it was a Child's Music-cover, and I have to say that it really looks like that too, except from the model's. I think you could've done a better job dressing them up and stuff like that, because they look kind of.. well.. average, or what I should call it :XD: lol.
Your editing was good, though, but it may've been a bit too much, but I guess that's because of all the funky colours burning my eyes out. Haha. Your model's poses looked good in the picture, I have to say, but I would've liked seeing.. well, maybe some toys and some child-pattern and so on, but hey – I'm just judging, not making
I think you did a great job overall, actually!
___________________________________________
Since lovints had to drop out (unfortunally) because of the HELS-pack was ruining her computersystem (shame on you, EA-games!), I've decided that no one will be eliminated this round, but instead you guys have to make two pictures for me this week. For further information, read the description.
___________________________________________
If you don't enter your picture in time for the deadline, you
will
be eliminated -
no sorry excuses.
Rules:

1. Be creative! Never copy others work.
2. You could edit your pictures, but I would like to see the face of both of your Sims.
3. It needs to be a mother and a daughter. Please don't make it "Mother and Son"
4. Your child could be a toddler, child or teen. Your mom could be a young adult, adult or elder.
5. You need to apply two models, a mother and her child, and you will have to use both of them in every assignment.
6. Please keep the deadlines. You could get one or two days extension time, but only if you remember to tell me that as fast as you can.
7. I guess you'll get about a week (more or less) for each assignment. I guess that'll depend on how hard the task is.
8. You can change hair, make-up, outfits etc. in every single assignment
9. One picture per person. You could add an amount of pictures, as long as you pick out the one you want to count in this assignment. I can't judge four-five pictures (or more) to be one single shot. I hope you understand.

_______________________________________
You'll be judged by;
Model's appearance: ?/10
Creativity: ?/10
Editing: ?/5
Overall appeal: ?/10
Total: ?/35
________________________________________
Assignment six: A bit of this and a bit of that!
DEADLINE: February the 28th, or when all of the entries are in!
The deadline is sooo huuge, because this time ALL OF YOU need to enter two pictures
Task 1: The dinner
Here's the deal: I think a lot of you get what this assignment is about, but anyway: You're going to invite some of your family/friends in The Sims 3 and throw a dinnerparty for them, and ofcourse – your model's has to be in the center of attention of this shot
I know it may be a bit hard, but hey: Practice makes perfect! :XD:
(lol, I hope you guys can make a better picture than this :XD: Haha.)
Task 2: Travel is fun!
I also guess you all know what this task is about, right? If you don't have World Adventures, you can always just put your Sims in another background :XD: Show your mother and daughter travel and have fun and be creative here! You don't have to picture them in front of the Sphinx or the Eiffel-Tower (:
________________________________________
Any questions? Read the rules. Does it still not answer your question? Ask in this thread. Thank you.
You could apply a
short
story with the picture if you want to, because I love to read stories, as long as they fit the picture it's telling about.
IMPORTANT:
This won't affect your score - it's your picture which is essential.
I'm looking forward to see what you guys come up with, because if you think outside the box it'll really be something unique and something YOU. Good luck and enjoy. Take your time, you got lots of it!
____________________________________________________
Contestants:
1. Syrionia with Blair Cullen and Morven Cullen
2. kelseyjeanne98 with Harper Ninerson and Kali Ninerson
3. lehdkat with Grainne O'Malley and Aiofe O'Malley
4. katrina with Macey Mack and Ray Mack
5. Vav2009 with Melody Jacobs and Harmony Jacobs
(When you've entered your picture, your name and mother and daughter will turn red - after I've edited it ofcourse)
____________________________________________________
PLEASE READ THE RULES AND READ CAREFULLY ABOUT THE ASSIGNMENT BEFORE ENTERING YOUR PICTURE.
YOU'LL HAVE THE CHANCE TO CHANGE AND EDIT YOUR PICTURE AS LONG AS YOU WANT UNTIL THE 28TH OF FEBRUARY.
_____________________________________________________
I want your entries in to 28th of February (23:59:59) Convert your time here:
From: Oslo
To: Whatever your destination must be
_____________________________________________________
If you have any questions, just ask them in this thread.