THE CHALLENGE: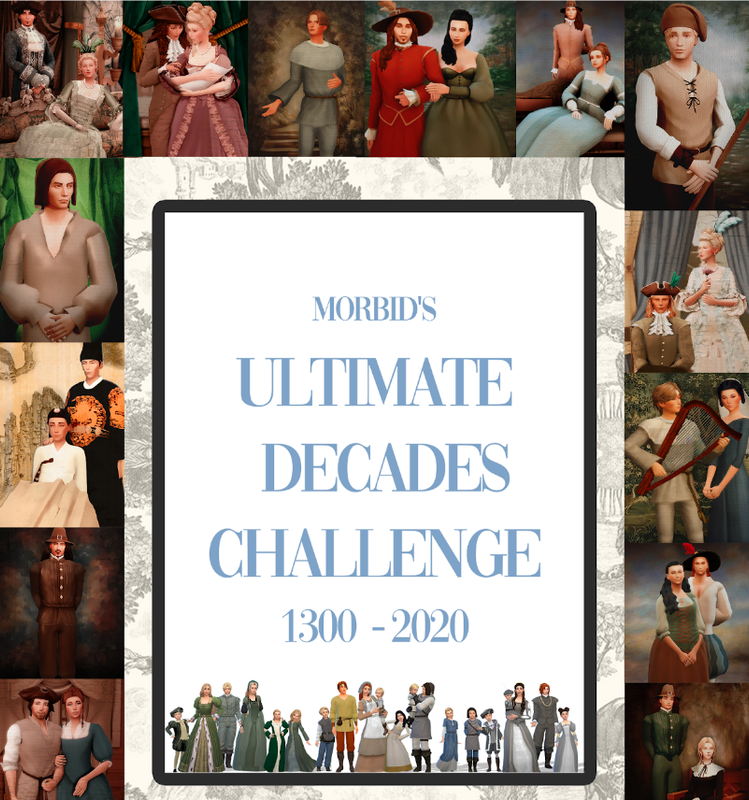 This challenge is based on
Morbid's Ultimate Decades Challenge.
It is a very involved challenge, and there are also
spreadsheets
(a blank one is available in the challenge write up), to track your family's progress, and also to keep track of what "year" it is. For instance, year 1300 lasts a mere 4 sim days. And, there are certain restrictions that come with the time period you are working on, such as what harvestables you can grow, and restrictions on items you can't use during that time period (for instance, in 1300, there was no electricity, so you can't have a tv). This challenge is not for the faint of heart. as it involves "death rolls" to coincide with what could have happened to your sim during a certain time period (disease, etc.). For someone who gets very attached to their sims, this, in itself will be a challenge for me.
Most gamers play this challenge with mods and cc; however, I won't be. This will be played as a vanilla game. I have, however, up-dated all the builds in the world I will be playing in to reflect off-the-grid builds. Some builds have been replaced and new builds have been downloaded from the gallery. For this time period, I have chosen to live in Henford-on-Bagley, and most of the residents' clothing has been updated; however, I can't account for those random townies' clothing, or sims from other worlds popping in.
@Snarkysims
has actually re-done
Henford-on-Bagley as a Medieval World
, and I have used some of her builds in my gameplay. Additional medieval builds have been placed in Newcrest. Not quite the same as you can see modern buildings in the background, but I had an overflow of lots that I wanted to use, and that is where I placed them.
And so...the challenge begins...